If you are looking forward to settling down with your lover who is of the Yoruba tribe, this article will walk you through and prepare you on the Yoruba engagement list, bride price, and Introduction rites.
The Yoruba people happen to have one of the most admired cultures in Nigeria. Yoruba is also one of the predominant ethnic groups in Nigeria toping 2nd on the list just below Hausa.
Traditional marriage in the southwestern part of Nigeria is a very symbolic activity and an integral part of the culture so it is not held with frivolity.
'Igbeyawo' as it is called in Yoruba land literally means 'bride carrying by the groom'. Having a wife is considered an achievement amongst the Yorubas, they believe a man without a wife would not command respect likewise a woman without a husband is seen as incomplete.
Hence, when a man comes to ask the hand of a woman in marriage, both their friends and family are happy for them and they give their optimum support to make everything work out successfully.
The Yoruba wedding ceremony is usually colorful, full of life, surplus means, and a joyful atmosphere. Yoruba people are often regarded as one of the best tribes to marry in Nigeria.
Yoruba Introduction
Before the traditional wedding rites take place, the groom and his relatives pay a visit to the bride's family bearing gifts to declare their intent to marry the bride before the wedding day. Although this introduction is an informal occasion, the groom's family is warmly welcomed with food and drinks, discussions are then made.
In the Yoruba culture, an "Introduction" Ceremony is held so both families can meet officially was invited in, the grom to be is asked to state his intentions and greet the fiancee's parents – by greeting, in Yoruba Culture, we mean men lying flat on the ground and women kneeling
Usually, the traditional wedding date is picked during the introduction and the marriage list is presented to the groom's family.
Yoruba Introduction Ceremony Pictures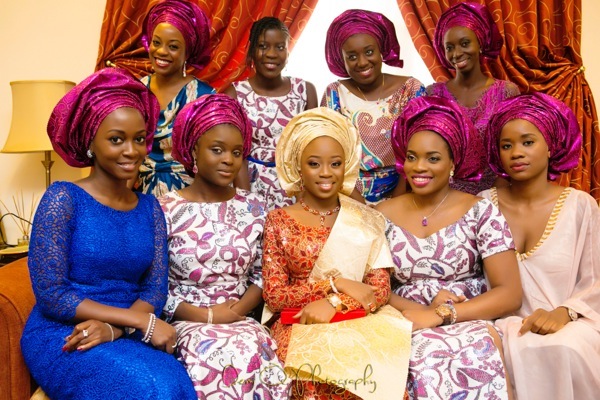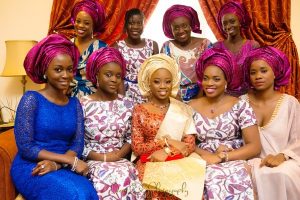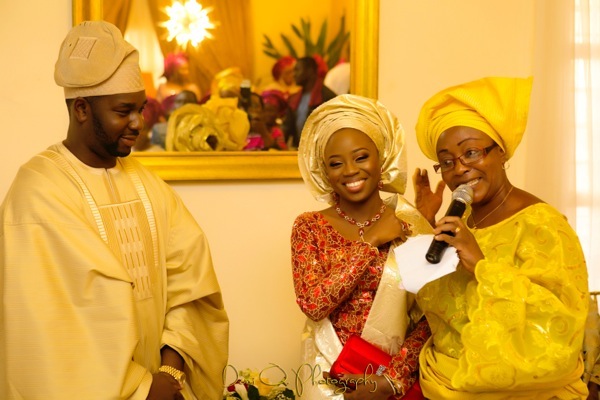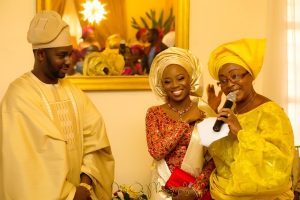 Yoruba Engagement List (Eru Iyawo)

Below is the Yoruba engagement list.
Bitter kola (Orogbo)
42 yam tubers (Isu)
A bag of rice
25 liters of palm oil and vegetable oil
2 bottles of honey
Kolanut (Obi abata)
Alligator pepper
A box of clothes
Basket of fruits
Sugarcane
Umbrella
A bag of salt
Dried fish (Eja osan)
She goat or Hen
Bible
Engagement ring
Aadun
Wine
Soft drinks
Cash: Bride price (which is usually N5,000 across Yoruba land)and some supplementary cash gifts like Owo iya gbo, Owo baba gbo, Owo isigba and others.

Yoruba Engagment List Q & A
The Yoruba engagement list varies across different regions in Nigeria. Below are possible questions and answers to prepare you for a successful Yoruba engagement ceremony.
Is Cow Part of Yoruba Engagement List?
Yoruba traditional marriage rites vary from place to face and in most cases, it depends on the financial capabilities of both parents.
In some families, the Youba parents of the bride ask for a favour from the groom's parents to help in providing specific gifts for guests who will be present at the wedding. In this case, the groom's parent may be asked to provide a cow.
However, this is uncommon and it is done only when the parents of the bride are not financially stable and need support.
Can The Groom Pay For Some Items in Cash?
Yes, this is possible. In a situation where the groom is unable to purchase the engagement items due to several reasons. The bride's parents will accept cash for the items he is unable to buy.
Is It Wrong For The Groom To Visit His In-laws Empty Handed?
Yes, it is abominable in Yoruba culture for a groom to visit his in-laws without offering them gifts. This is also the same with other cultures in Nigeria like Igbo and Tiv.
Is Yoruba Engagement List The Same in All Places?
Yoruba engagement list items vary from place to place. however, the variation is minimal.
Bride Price in Yoruba Land
The general pride price in Yoruba is N5,000. This price is symbolic because the Yoruba people the value for their daughter is priceless and so, paying the bride price does not automatically mean you are buying the bride.
Lastly, all engagement items bought by the groom are purely symbolic and are not subject to monetary gains.
Read Also:
When an Igbo Man Loves A Woman
How To Nigerian Wedding Reception Program
Budgeting For A Yoruba Bride Price & Engagement Rites
Before going for a Yoruba bride price and engagement ceremony it is important to research, plan everything out strategically. I hope this guide on Yoruba engagement list was helpful? please comment below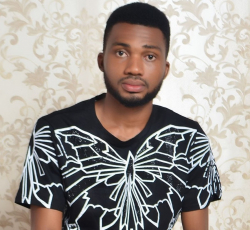 Latest posts by Benjamin Targba
(see all)