No matter how a lady's figure might look, this dress will hide them! Which dress? Who are the major sets of people that love to rock this attire to hide their current state and yet look classy?  Sit back and relax as you read through the article; trendy bubu gown styles. Happy reading!
Bubu gown styles are generally loved because of their simplicity and the ability to swing it around comfortably. Some people even refer to it as a female version of agbada. The style is suitable for women of 'any size' as it hides all shortcomings of your figure.
Bubu gowns have been recognized in the African fashion industry as one among the many female outfits that can be definitely used by all categories of women. Most times. they are made using lace fabrics. Although, other fabrics such as the Ankara fabrics, chiffon fabrics, crepe fabrics, batik fabrics, etc. are now being used by designers all in a bid to satisfy everyone.
Trendy Bubu Gown Styles For Pregnant Woman

Being pregnant is a state every woman wants to be at a particular stage of their lives. However, there is a general belief that pregnant women look disorganized during the pregnancy stage especially when it comes to their outfits/attires.
This belief can be juxtaposed with the 'protruding' belly of the expectant women. This is however not so anymore, bubu gown styles have made it convenient for pregnant women to dress well not minding their state of pregnancy.
The dress style is suitable because it does not only makes them comfortable and classy but provides them with diverse styles and fabrics to rock with to avoid repeating the same dress pattern.
With this dress style, its a good thing to note that pregnant women can attend any events they wish to comfortably! Let's take a look at the samples of trendy bubu gown styles below:

Bridal Silk Bubu Gown Styles

Chiffon Material Bubu gown Styles

Elastic Material Bubu Gown Styles

Ankara Bubu Style Gown

Lace and Cord Net Bubu Gown Styles






Read Also:
Latest Ankara Short Gown Styles
Peplum Ankara Shirt and Blouse Styles
Conclusion: Trendy Bubu Gown Styles For Pregnant Women

Conclusively, with the trendy Bubu gowns for both ladies and pregnant women being diversified in terms of colour, fabrics, and styles, carrying a baby in the womb for 9 months while attending to many other things becomes more comfortable.
Away from the general belief that pregnant women most times look unkept, you can enjoy your pregnancy stage rocking Bubu gown styles.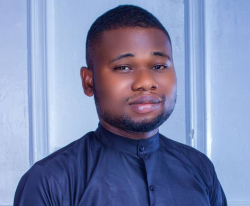 Latest posts by Gideon Agbaja
(see all)