You stumbled on this post because you are about purchasing or paying for the GOtv Lite package but wish to know the list of all available channels on the GOtv Lite Subscription plan before parting ways with your money. You are however on the right channel as this post tends to unveil the list of channels available on GoTV Lite.
GOtv is a product of Multichoice Nigeria, a subsidiary of Multichoice Africa headquartered in South Africa. Multichoice Africa has a wide range of products in many African countries apart from GOtv. DSTV is one of those other products. It uses a broadcast method that is similar to what the likes of NTA and AIT use but with better video and audio quality. It was launched into the Nigerian market in 2012. GoTv was first launched in OYO state capital (Ibadan) as GOtv Nigeria and it was offering 20 channels then.
Furthermore, its coverage has gradually extended to all Nigerian cities and towns in the past 8 years and still making their services better.
GOtv is a pay-TV platform that is available not just in Nigeria but in other African countries such as Kenya, Ghana, Malawi, Zambia, Uganda amongst others. However, the pay-TV platform has numerous channels and packages for its customers to enjoy. These channels and packages are however based on how far customers can go in terms of subscription. As such, your level of access to channels and packages is based on your sub. as it is mostly called. GOtv offers viewers many exciting local and international channels.
Nigerians are, however, 'wise' as most individuals are not ready to subscribe else they have the full knowledge of the channels list available to them on each package.  The least of those packages is GOtv Lite. Let's take a look at the channels list below:
GOTV Lite Channels List

GOtv Lite channels provide access to 23 channels at a very friendly rate of ₦400 per month.  Below is a complete list of GOtv Lite channels according to the categories they fall under.
Local Channels (10 Channel)
Liberty TV
Rave
NTAI
Silverbird
AIT
Channels
MiTV
Lagos TV
WaZoBia Max
WAP
Religious Channels (4 Channel)
Faith Broadcast Network
Islam Channel
Emmanuel TV
Dove TV
News and Commerce (3 Channel)
eTV Africa
Al Jazeera
TVC News
Entertainment and Movies (2 Channel)
GO Channel
Galaxy TV
Sports (1 Channel)
SuperSport Blitz
Children (1 Channel)
Jim Jam
Music (1 Channel)
Afro Music English
Specialist (1 Channel)
TVC Entertainment
How To Make Payment For GoTV Lite Package
There are several methods to pay for your GOtv Lite plan. You can choose to pay at any authorized outlet near you or you can make payment using the online via Quickteller.
For more info: you can always contact GOtv Nigeria online on their customer service platforms which include:
GOtv Nigeria email: dstv@nigeria.mutlichoice.co.za
GOtv Twitter handle: https://twitter.com/govtng
GOtv NG Facebook: https://www.facebook.com/govtng
Additionally, you can use the GoTV shortcode on your phone which is 4688 or the GoTV Nigeria USSD which is *288*1#.
Read Also: How To Scan for Missing Channels On GOTV
GoTV Lite Bouquet Current Price List
N410 per month
N1,080 per quarter (4 months)
N 3,180 per year (12 months)
GoTV Packages
The digital TV service provider used to offer its Nigeria-based customers four packages, including GOtv Max, GOtv Jolli, GOtv Jinja, and GOtv Smallie. The service provider recently added a new package called GOtv Supa, which offers a longer channels list.
GOTV Decoder in Nigeria
The GOtv package comes with a decoder, an antenna popularly called GoTenna and a one-month free subscription. GOtv decoders cost between ₦9,000 and ₦9,500 depending on the place and period of purchase.
How to Activate GoTV Decoder the First Time
Once you have purchased and installed your decoder the next thing is to activate it. The normal procedure is that it should be activated where you bought it but there are situations where the buyer may not want to install or activate it yet.
You should know you can do the installation and activation yourself anytime you are ready by following the steps below.
Visit the GOTV Nigeria activation page; GOTV Africa
Select the Nigerian city you reside in;
Input your surname;
Enter your decoder IUC number. It is located on the red sticker under your decoder;
Input your mobile phone number;
Hit the ACTIVATE button.
Other than activation, you need your IUC number for renewing your subscription, easy self-service and when you contact customer care.
Conclusion: GOTV Lite Channels List

Apparently, the channels you have access to depend on which type of package you purchase. Although GoTV Nigeria has designed it in such a way that no viewer is left behind as at least a channel or more is made available on this package. However, there are some channels that cannot be accessed unless the GoTV package is upgraded.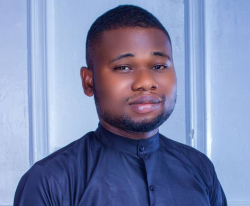 Latest posts by Gideon Agbaja
(see all)