Are you planning to buy a sewing machine? This article tends to provide the price of different types of sewing machines in Nigeria as of the year 2022.
The sewing machine is definitely the most important tool to a fashion designer as nothing tangible will be achieved without it.
What is a Sewing Machine?
Sewing machine, any of various machines for stitching material (such as cloth or leather), usually having a needle and shuttle to carry thread and powered by a treadle, water power, or electricity.
Research has it that it was the first widely distributed mechanical home appliance and has been an important industrial machine.
Types of Sewing Machine

Sewing machines can be classified into two(2)  kinds. These are domestic machines for home use and industrial machines which are used for factories and clothing production.
We basically have six types of sewing machines depending on their use, i.e, whether domestic or industrial use.
There are six types of sewing machines designed for the home and countless specialized machines in the category of industrial machines.
Thus, let's take a look at the types of sewing machines we have (both domestic and industrial).
Domestic Types

The six basic types of domestic (for home use) machines are
1. Mechanical Treadle Sewing Machines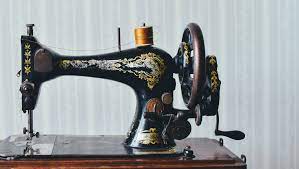 Mechanical machines are said to be the most basic of all machines and could be treadle or hand-operated. They were designed to be used before electrical power was accessible.
The mechanical machine is either operated with a handle and turning the wheel to drive the needle and make the stitches, or it may be a treadle machine.
The treadle machine is manual and operated by working a treadle plate just above the floor. The movement of the treadle and a rubber belt drives the machine and the stitching needle.
You might probably recognize some of these vintage-style machines. They were often attached to their tables and the machines were made of metal and built to last. Mechanical machines only did a straight stitch.
2. Electronic Mechanical Sewing Machines
Electronic machines have many more options and of course, have the advantage of being electronically operated as the name already implies.
There are many brands of electronic machines to choose from offering different stitches and stitch lengths. Electronic mechanical types of sewing machines will straight stitch, zigzag and have some decorative stitches.
There may even be a buttonhole option. The functions are accessed by a knob rather than an electrical computerized panel.
Mini and Portable Machines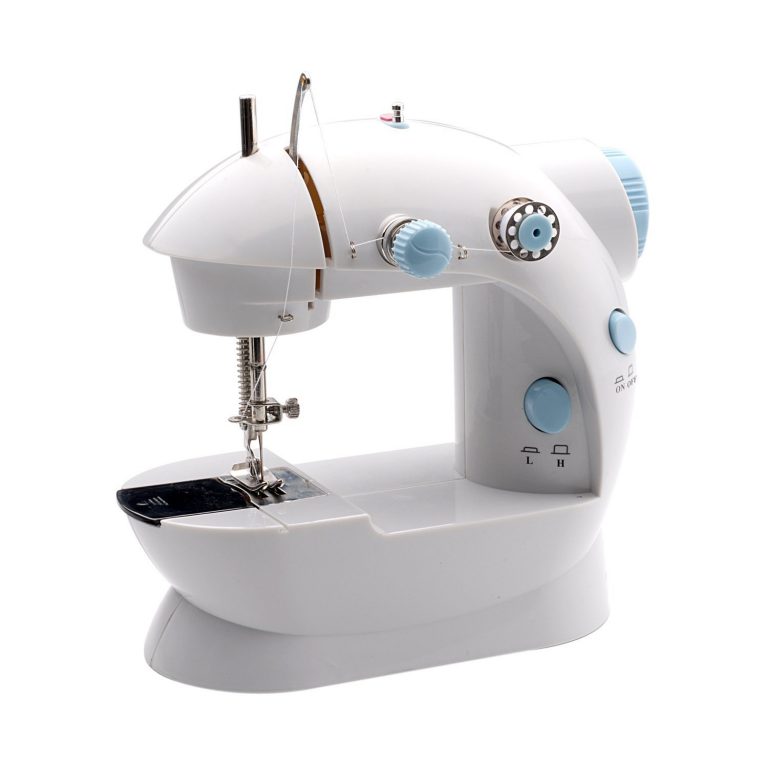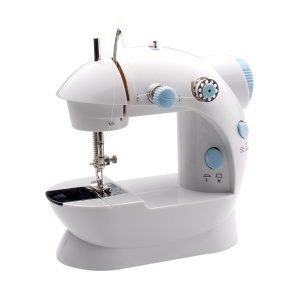 Electronic machines would include mini portable machines. The mini machine is not sturdy enough for vast quantities of sewing.
However, it is portable and easy to carry, it's best recommended when attending to small projects and mending. Most of these machines are not strong enough for larger projects and extended sewing.
3. Computerized or Automated Machines
computerized and fully automated machines have many more functions and features.
The machine often has an LCD screen display, automatic needle threading, and even embroidery stitches. Different tension controls and stitch lengths.
Computerized types of sewing machines will make buttonholes and have built-in stitch programs. These machines are however more expensive, they are sturdy and long-lasting.
4. Embroidery Machines
Embroidery machines are ideal or considered as an investment if one plans on doing lots of embroideries.
The machine has access to built-in designs and a memory facility to store designs. It is also used to make different patterns on textiles. The USB port on this machine enables the embroider to access other designs and import them into the memory of the machine.
As you can imagine, embroidery machines are on the higher end of the price range and some can be many thousands of dollars. In a nutshell, they are very expensive.
5. Quilting Machines
Quilting types of sewing machines are highly recommended if one plans to make large quilts. This machine has a long arm. This, it allows greater volumes of fabric to pass through the machine. The quilting machine is able to sew through thicker quantities of fabric.
The feed of the machine ensures steady and even sewing as the fabrics are held in place. Many brands such as Janome offer machines that are designed for quilting and general sewing.
6. Overlocking or Serger Machines
The particular machine is a relatively new addition to the sewing machine collection.  It is the perfect machine for sewing stretch knits and fleece for active sportswear.
The overlocker or serger may come with three or four threads. It has the ability to sew, trim and oversee the edges of seams. The serger can be used for neatening edges and it creates a really professional look.
Industrial Sewing Machines

It is a general phenomenon that Industrial machines are made to be durable and to tackle multiple types of fabric such as heavyweight fabrics, upholstery fabrics, leather, rubber, plastic and canvas.
All sorts of projects using tough materials are fair game for the industrial machine. However, some of these machines have found their way into the home industries because of their durability.
There are different types of industrial machines and most times, they are attached to sew one specialized function. This is different from a domestic home-use machine which is designed for multiple purposes.
Industrial machines are made with metal bodies and interiors. This is because they are mechanical with few or no computerized parts, industrial machines are long-lasting and able to sew for extended periods of time.
Industrial machines are very expensive. However, most people in need of it don't feel such way as it is durable, faster produces a good result in the easiest way even though it's attached to sew specialized functions.
Industrial Sewing Machine Types
Below are types of some common industrial sewing machines –
Cover stitch machine – A specialized industrial machine able to do hemming, binding, topstitching and adding decorative effects.
Lock stitch machine and heavy-duty lock stitch machine – This creates a stitch similar to a backstitch.  The stitch looks the same on both sides of the fabric.  The lock stitch is capable of straight and zigzag stitches.
Chain stitch machine – Creates a chain stitch useful for stretch fabrics and for binding and decorative effects.
Blind stitch machine – This machine makes an invisible hemstitch. It is fast and efficient in this process.
Buttons and buttonholes – There are types of sewing machines programmed to sew buttons using a lock stitch and an industrial buttonhole machine is geared for several types of buttonholes.
Back tack machines – They specialize in sewing the little stitches you find on the top edge of pockets, or on the loops for a belt and other areas that need reinforcing.
Leather machines – These have a walking foot to enable them to glide over tough and sticky leather.
Zig-Zag machine – This industrial type of sewing machine does zig-zag and is used predominantly in bra and underwear production to attach elastic.
How Much is Sewing Machine in Nigeria?

Having known sewing machines are of different types basically Domestic and Industrial, one will want to be curious about the price of sewing machines in Nigeria in the market zone. Sewing machines are definitely of different prices.
The difference in price might be determined by size, functionality, brands and of course whether it's domestic or industrial. Hence, let's consider the prices of some sewing machines below based on functionality, size, durability and brands.
Read Also: Hisense TV Prices in Nigeria
1. Emel Industrial Sewing Machine Price in Nigeria

This machine is used in all fabric sewing jobs including silk, denim and even some leathers. EM8500 is elegant, with a matured structure, reliable performance, high efficiency, and large operation space. Can sew thin to moderately thick materials producing neat and nice stitches.
Features and Specifications
Produces about 5000 spm (stitches per minute)
Runs on a clutch of 250w, 220v power rating
The foot can be raised between 5mm to 13mm to accommodate bulky stuff during sewing
A smooth reverse stitch lever for adequate stitch lock
Automatic lubrication system
Produces stitch length between 0 and 5mm
An engraved Emel branding at the rear of the machine indicates its authenticity
PRICE:

₦

135,000 –

₦

150,000
2. Butterfly Sewing Machine Price in Nigeria
Features and Specifications
Stitch Length Regulator
Good Space to accommodate bulky fabrics
Built-in Light
Sewing Pedal and Adapter
Straight stitches
Complete Machine part set and manual
Runs very smoothly
Good extension table
Free-motion sewing
Weight of 25kg and lots more…
PRICE:

₦

35,000 –

₦

47, 000 (depending on the functionality)
3. Electric Sewing Machine Price in Nigeria

PRICE RANGE:

₦

180,000 –

₦

195, 000, the price for the mini sizes however ranges from

₦

7,000 –

₦

10,000
4. Two-Lion Sewing Machine Price in Nigeria

PRICE RANGE:

₦

61,000 –

₦

73,000
5. Singer Sewing Machine Price in Nigeria

PRICE RANGE:

₦

55,000 –

₦

250, 000 (depending on functionality)
6. Hand Sewing Machine Price in Nigeria

PRICE RANGE: ₦5,000 –  ₦9,000
7. Wig Sewing Machine Price in Nigeria

PRICE RANGE:

₦

10,000 –

₦

25,000 (depending on functionality)
Read Also;
Cost To Buy A Sheep in Nigeria
Conclusion: Sewing Machine Price in Nigeria
Conclusively, the Sewing machine is the most important tool needed by a fashion designer or a tailor as it is popularly called.
However, there are vast varieties of sewing machines in the market zone. Deciding on the types of sewing machines best for you depends on the functions and the quantity of work you are planning.
If you will be sewing a few times a week then you will probably be purchasing a domestic sewing machine. For the daily and all-day sewing, an industrial machine will be used with each machine fulfilling a specific function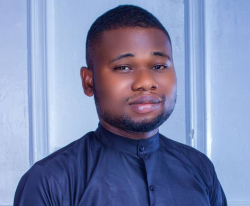 Latest posts by Gideon Agbaja
(see all)