Looking for how to get an online birth certificate in Nigeria? Don't worry, this article will guide you in the step-by-step process of how to get a birth certificate in Nigeria.
A birth Certificate is the most crucial identity document as it shows the date and the data of one's birth. To get the benefits provided by the Nigerian government to its citizens, one must have a birth certificate.
It is also an important legal document that both you and your child will require in the future. The "National Population Commission" of Nigeria is responsible for issuing birth certificates.
The certificate includes the holder's name and parent's name as well as their date and state of birth.
For those who were born before 1993, Only an Attestation of Birth + Affidavit, two complimentary papers, are available because Birth Certificates cannot be issued for those who were born before the founding of the NPC.
How Can I Get An Online Birth Certificate in Nigeria?
As of the time this article is written, there is no means by which the Nigerian Population Commission has provided to get a birth certificate online in Nigeria. Meanwhile, NPC has made a note on their website in response to how frequently this topic is asked and they say thus
"You can obtain a Birth Certificate after the presentation of evidence of the child's birth (Baptismal card, Hospital birth notification, Immunization card, etc.) to any of our Government Hospitals, Health Centers or our States and Local Government Offices in the 36 States and the FCT".
This means you have to go to a government hospital, local government or visit the National Population Office before getting a birth certificate in Nigeria, with the following documents as requirements, Read down.
Requirements for Birth Certificate
The requirement/procedure needed for a birth certificate in Nigeria, for the purpose of this article is of two categories
For a person born after 1992
For a person born before 1992
For the very first case, the person requesting to process a birth certificate must have been born after 1992 to do so.
Such a candidate must pick up a data form from the NPC office called form B, which must be completed by both the candidate and the candidate's parents.
The form will be returned to the NPC along with the necessary documentation such as a Baptismal card, Hospital birth notification, Immunization card, etc for processing and verification.
Secondly, For those born before 1992
The individual applying will obtain a proxy form on behalf of the real applicant if the application is to be conducted on their behalf.
The following documents will be required with the data form:
An affidavit was sworn to at the High court of the state by the applicant.
A copy of valid means of identification in the case of a proxy,
A national passport or national identity number.
A Passport photograph of the applicant, if in the case of proxy then a passport photograph of the proxy
The NPC is subsequently provided with the required documents for review and processing.
How Long Does it Take To Get A Birth Certificate in Nigeria?
It only takes a few days to process the verification procedures for the birth certificate and the attestation of the birth certificate.
Currently, the NPC is the only statutory entity authorized to issue birth certificates in Nigeria; any certificates not issued by the NPC in Nigeria may not be recognized for any official purposes.
Where To Get A Birth Certificate in Lagos
To get a birth certificate in Lagos, you have to visit the local government where you were born or You can visit the National population office, of which the address and email are given below
Babs Animashaun Road, Surulere, Lagos
Email: statedirector.lagos@nationalpopulation.gov.ng
Where you have difficulties in Lagos or need further information you can also reach out to the National Headquarters via their address, email, or phone line below
Headquarters,
National Population Commission,
No. 1, Masaka Close,
Off Olusegun Obasanjo Way,
Wuse Zone 7,
Abuja
Email: info@nationalpopulation.gov.ng
Phone: +234 (0)9 234 3173
Fake Nigerian Birth Certificate
Having a forged birth certificate is illegal in Nigeria. In addition to being used to perpetrate several crimes, fake birth certificates are also used to enter Nigeria illegally.
You can contact law authorities and inform them of your suspicions if you believe that someone is using a false birth certificate.
Furthermore, if you have it, you run the risk of getting into trouble yourself. A legitimate birth certificate is issued by the Nigerian Population Commission, as we have emphasized so far, or you can obtain a court's attestation.
Other than these two governmental entities, every other way is fake. Below is a sample of an authentic birth certificate.
Sample of Original Birth Certificate in Nigeria
It could be challenging to determine whether a birth certificate is real or false simply by glancing at it. However, you can determine its authenticity through the following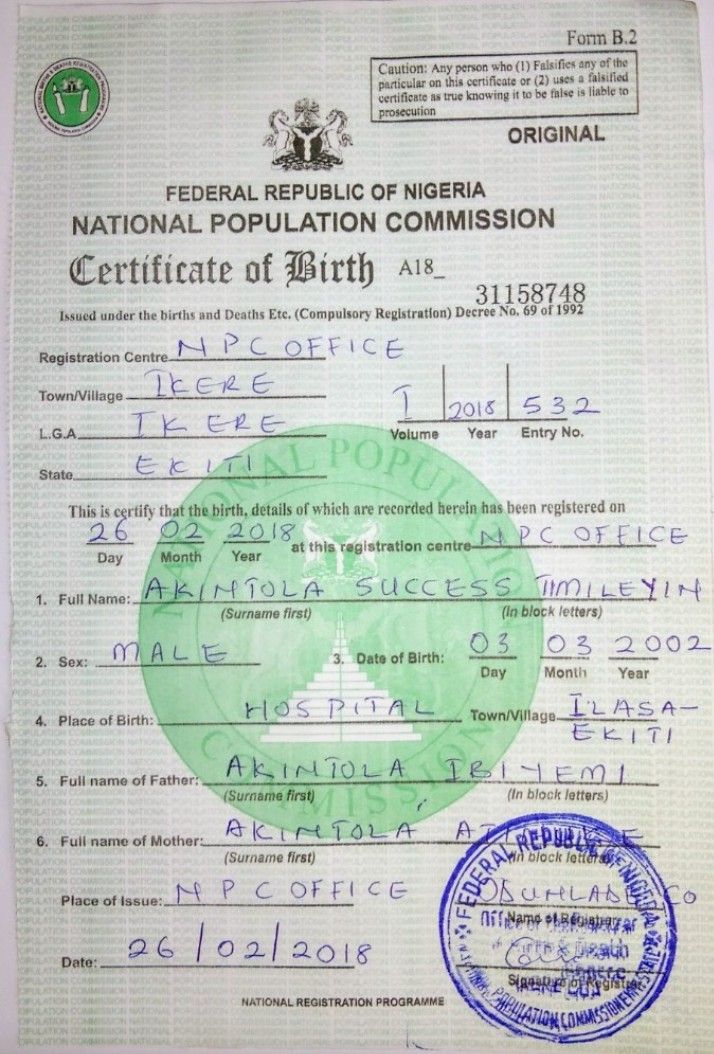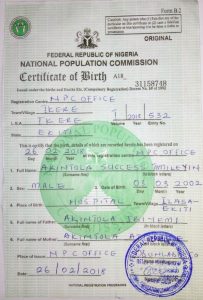 An official birth certificate needs to bear a seal. A raised or colourful seal is frequently used and It may also be imprinted on the paper. The birth certificate may be fake if it lacks a seal.
The birth certificate must have a signature that is signed by the Registrar
On a true birth certificate, the individual's entire name, birthplace, and date should also be listed. If any of this is missing, the birth certificate can be fake.
Additionally, the birth certificate must have the filing date
Read Also:
Common Nigerian Symbols and Meaning
Wrap up
This is how far we can go on the article, I hope you obtained value as you read through. Thanks for reading.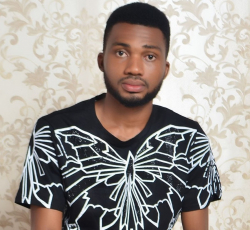 Latest posts by Benjamin Targba
(see all)