If you are a resident of Lagos; whether old or new resident and looking out for some fun places to hang out. In this guide, you will discover some of the best Amusement park in Lagos ranging from Lekki, Egbeda etc.
Lagos is one of the most beautiful states in Nigeria, it is filled with many businesses and companies and its no doubt; Lagos is one of the most industrious cities in Africa.
Foreign investors always crave to target Lagos due to high and better business opportunities and fortunes. Some people even take joy in telling people they live in Lagos.
Needless to say, Lagos is such a top freaky city with so many nightclubs surrounding the beautiful city, again, some of the top promising travel agencies could be found in Lagos.
In summary, Lagos is nothing but a city with fun, cruise and bustle; It is evident some of the best amusement parks in Nigeria can be found in Lagos.
What is Amusement Park?
An amusement park is a park that features various attractions, such as rides and games, as well as other events for entertainment purposes. They are more elaborate than city parks and playgrounds, usually providing attractions that cater to a variety of age groups.
Furthermore, they specialized in primarily entertainment direction, educational, cultural and educational.
In Nigerian, people that patronize amusement parks are rich parents who would often take their kids out to have fun and make merry in these places.
Again, in some cases, people who have found true love also bring their love partners to these cool fun places in Lagos to enjoy the atmosphere.
Types of Amusement Park
Below are some of the common types of amusement parks.
Water theme parks
Zoological theme parks
Historical theme parks
Regional theme parks
Pop culture theme park
Eco theme park
Ski resorts
Having understood the different types of amusement parks, let's quickly look at some of these cool fun places in Lagos.
Top 10 Best Amusement Park in Lagos
If you are on the quest to find amusement parks, below is a collection of the best amusement park (resorts) in Lagos,
1. Omu Resorts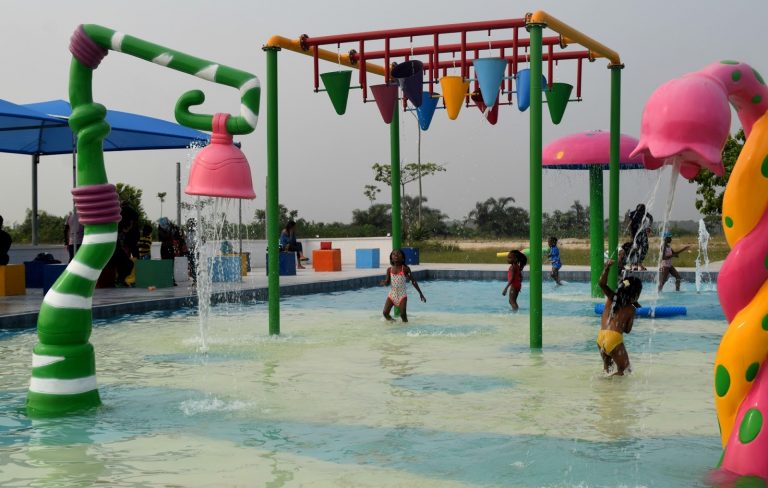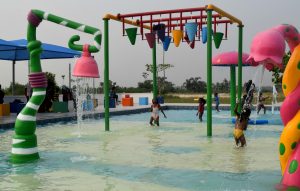 Omu Resort is a theme park located in Bogije, Ibeju Lekki – about 30 minutes after Ajah on a good day. If you are someone who loves fun, cruise and jolly; you should always prioritize Omu resorts.
The amusement park is one of the best in Lagos, it is a full package resort with all the things you could ever wish to see.
Omu Resort comprises a mini zoo, museum, paintball arena, skating area, golf course, quad bikes, horse ride, water park, SeaWorld and all water sporting activities.
Apart from the zoo, Omu Resort features other attractions such as a mini water park area for kids, archery, park rides, horse riding area, go-cart arena.
Security in this park is always strict and people are always safe at any time of the day.
Omu Resorts Entry Fee
At the time of documenting this article; Omu Resorts offers tickets in the following categories; Gold (₦4,000), Platinum (₦7,000), Prime (₦9,000) and Super Prime (₦16,500). You can check out the full details on the Omu Resort website.
2. Dreamworld Africana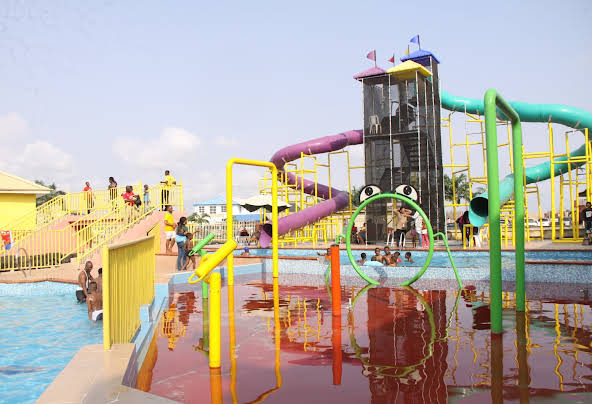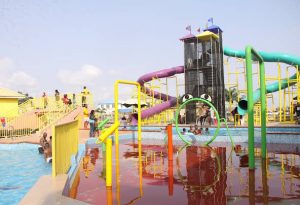 The dreamworld Africana is another top leading amusement park in Lagos that requires recognition.
It was established in 2018, Dreamworld covers an area of 10 acres and was re-opened to the public in 2013. The park is one of the main amusement parks in the city. The park provides many attractions to keep its visitors excited.
From the bouncing castles to the bumper cars, the games arcade to the drop tower and not forgetting the roller coaster, Dreamworld Africana can be said to be one of the best things in Lagos; because it has what it takes to give every visitor, especially the children, a lifetime experience.
Such is the uniqueness of Dreamworld Africana that it is designed to keep the whole family entertained.
There is a Bumper Car Pavilion that usually fascinates the boys, teenagers, and adults, presenting a unique driving (dodge and crash) experience that leaves visitors craving for more.
In addition, there is a Family Coaster's thrill that is full of ups, downs, turns, and twists and is a clear favourite for children and teenage girls.
There is also a Toddler Play Zone which is safe, educative and intriguing for toddlers as it can get.
The Bouncy Castle is a great ride for the family as well, especially for the children. They are bound to enjoy the thrill of the ride.
Dreamworld Africana Entry Fee
The gate fee for Dream World Africana is ₦3,500
3. Apapa Amusement Park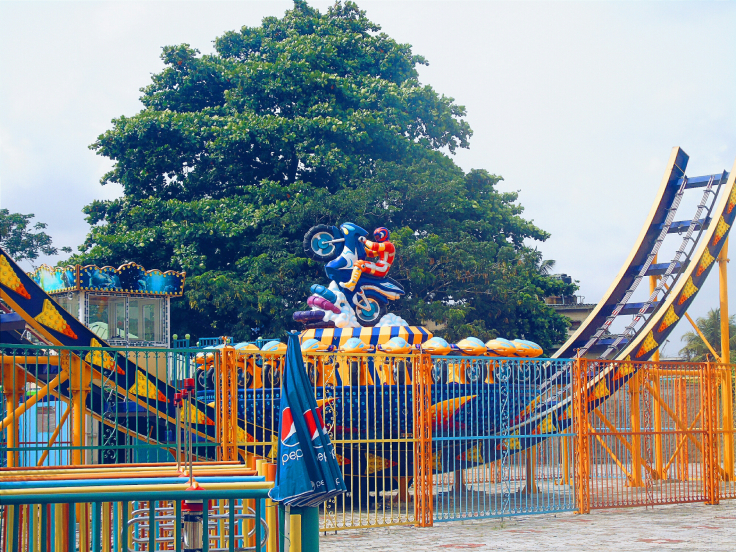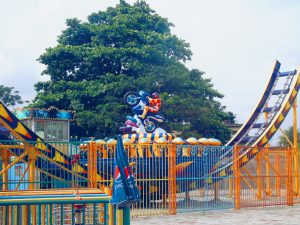 The Apapa Amusement Park is another rollercoaster fun place in Lagos, Nigeria. The park was built in 2008 and it spans an area of approximately 7.7 acres. The park reopened after a three-year closure and a complete makeover in 2015.
Aside from being an Amusement centre, Apapa Amusement park has been in the spotlight for many tourist visits in Nigeria.
This amusement park houses bumper cars, a carousel, air bicycle, mini football pitch, mini Ferris wheel, roller coasters, indoor arcades and a number of other rides.
Again, the indoor games arcade has lots of fun for the kids especially the younger ones
Apapa Amusement Park Entry Fee
Interestingly, there is no gate fee, you pay for each ride. Prices range from ₦400 to ₦1,500. You can buy a card and load as much money on it for the various rides and the card can be used another.
4. Fun Factory Lekki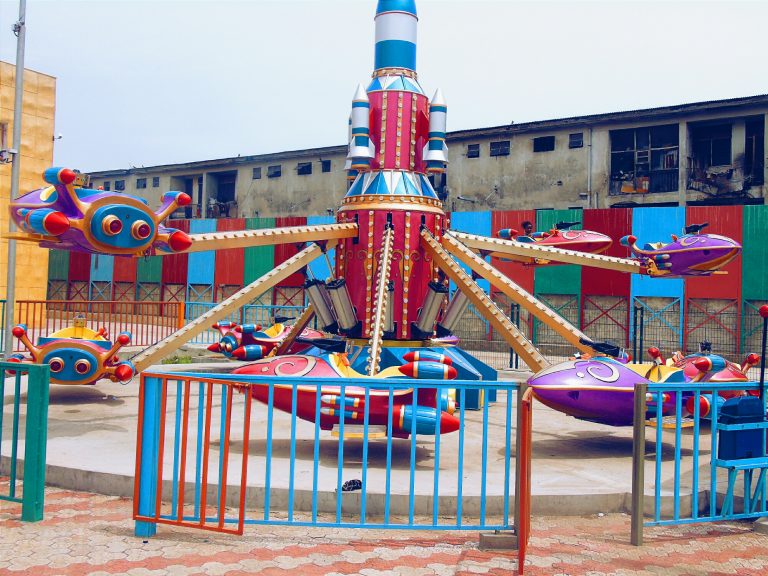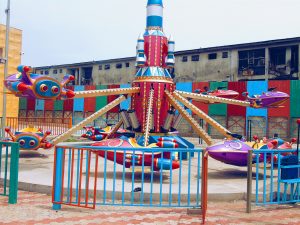 Fun Factory is located on Admiralty Way Lekki Phase 1 (enter from Lekki first gate). If you are looking out for the best amusement park to take out your kids you should consider Fun Factory.
It's mainly an outdoor fun place to take the kids for a relaxed weekend and to burn off their excess energy. It has outdoor slides, rides, a little pool and space for the little ones to run around. A great venue for children's events and outdoor parties
Fun Factory Lekki Entry Fee

The gate fee for Fun Factory Lekki is typically ₦3000 per person for 100% access to the place and its facilities. For more updates; checkout Fun Factory Website
5. Hi-Impact Planet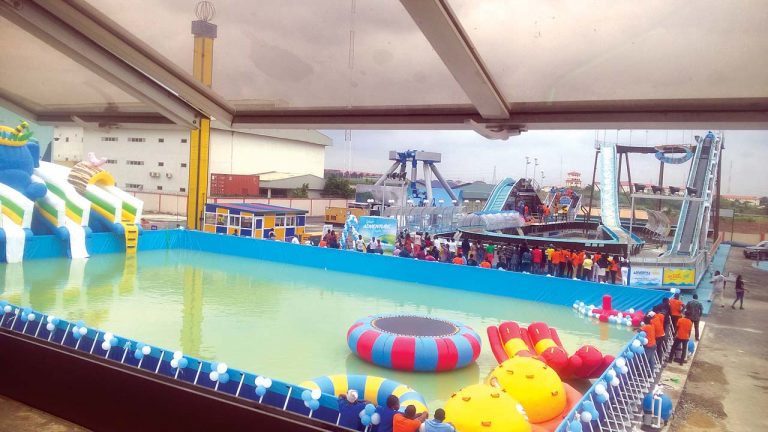 The Hi-Impact Planet is an amusement, theme park and resort on the outskirts of Lagos but located in Ogun State along the Lagos–Ibadan Expresswayibafo.
It was launched in December of 2015 and since then has been in the limelight.
The amusement park is comprised of indoor games arcades with lots of games, rides, bumper cars, ice skating, Ferris wheel, carousel, go-kart, train rides and an indoor 4D cinema.
It now has a swimming area and water slides. It also boasts of accommodations for out of town guests and if you want to maximize the holiday and stay over (Our own little Disneyland).
Hi-Impact Planet Entry Fee
The gate is ₦5000 and you have to pay for the games. You have two options – either pay as you play or buy an all-access package (HIP Regular or Combo).
The package ranges from ₦15,000 to ₦25,000. The costs for the individual games range from ₦500 to ₦2,500.
However, for adrenaline junkies; the Enterprise Ride is compulsory.
6. Funtopia Water Park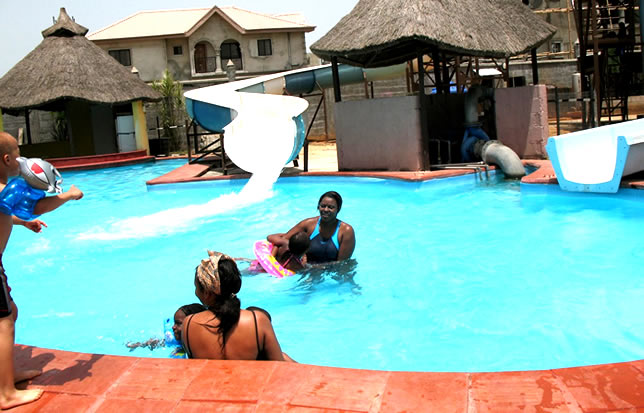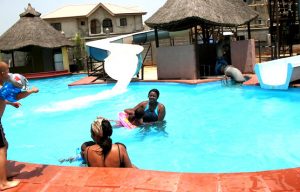 Funtopia Water Park, Ibeju-Lekki, is a complete entertainment park for the entire family. It is set on 2 acres of land and packed with activities for all ages.
Located a few minutes away from Victoria Garden City, Lekki Peninsula, Lagos, Funtopia Water Park is a brand new indoor and outdoor state-of-the-art entertainment centre with something for everyone, with no age preference.
The amusement park is surrounded by beautifully landscaped grounds filled with a wide range of recreational activities, Funtopia Water Park, Ibeju-Lekki is arguably the first facility of its kind in Nigeria.
It offers 3 giant water slides and 3 interconnecting pools which include an in-pool bar for adults. There are arcade and computer games in 'Cusco City', billiards and table tennis in 'The Shed' and a wide variety of other activities.
Funtopia Water Park Entry Fee
Gae fee ranges from ₦1,500 to ₦5,000
7. Rosellas Amusement Park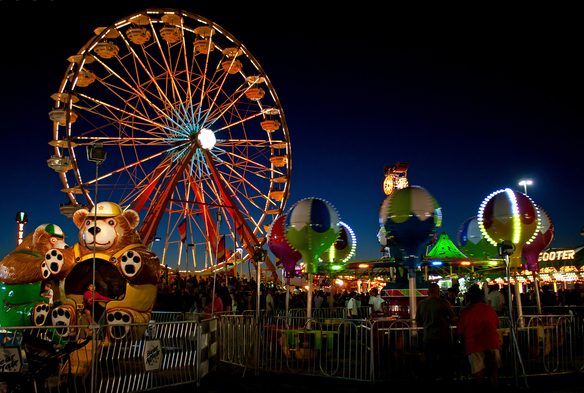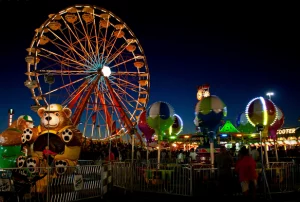 Another exciting amusement park for kids, friends and family is the Rosellas, Amusement Park.
The park is full of activities and attractions to catch your eye and bring out the kid in everyone. Some of the fancy excitement Rosellas have packaged are the swimming pools, musical jamboree, Bouncy Castle and Merry-Go-Round, trampolines, boat rides, various slides and swings, volleyball, badminton, football field, Rolla Coaster, art exhibitions and even inter-house sports facilities.
Conclusively, Rosellas Amusement Park is one of the oldest in Lagos and still operating to date.
8. Funplex Amusement Park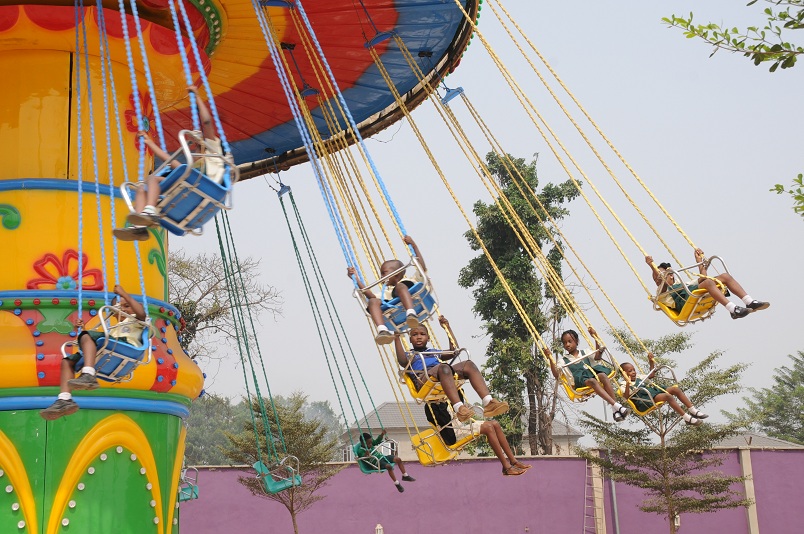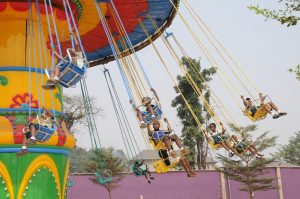 Funplex Amusement Park; is located at The Grant Suites Arena, CMD Road, Shangisha, Ikosi, Lagos State Nigeria.
Funplex park is a subsidiary of Allied Thrust & Systems (Nigeria) Limited (ATS) and they offer their visitors the best of fun at a cheap price and you can enjoy free rides and even pay for more stuff that might interest you.
Funplex Amusement Park Entry Fee
Gate fee is as low as ₦1,000 but varies on other activities.
9. Funtasticaland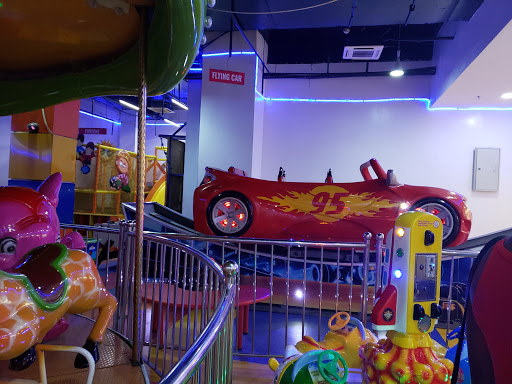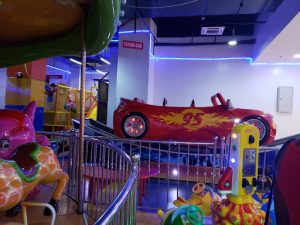 FuntasticaLand is a party and family entertainment centre located in Ilupeju, Maryland and Festac in Lagos, Nigeria. It is created to offer the local community a fun-packed day out in a safe environment with loads of exciting things to do, but most of all at an affordable price so everyone can join in.
In addition, the amusement park has exciting features such as; museum, video games, cinema, 3D movies, baseball, party shop, dace machine, arcades and lots more…
Funtasticaland Entry Fee
Price goes around ₦2,000 to ₦6,000
10. Funderland Mall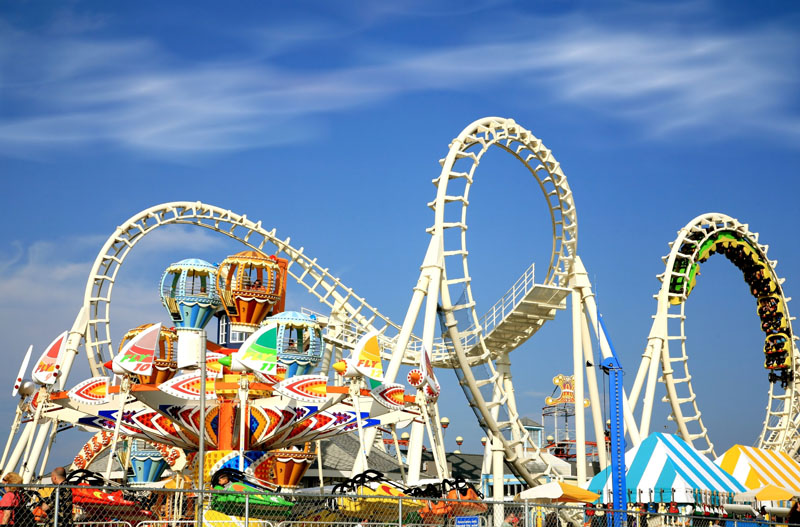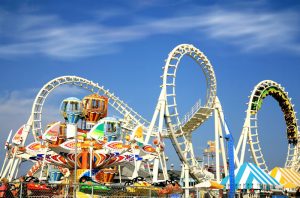 The Funderland Mall amusement centre is located at 16/18 Lekki- Epe Expressway opposite Mega Chicken (between Chevron and VGC) the Mall is home to DCube Skating Rinks, Trotter and Pop Water Park
The amusement centre is known for housing various fun activities such as skating, swimming, pop water park, museum and many others.
Together they offer you fun games, rock climbing, pony ride, swimming pools, slides and indoor skating
Funderland Mall Entrance Fee
The Price for rides and skating ranges from ₦1,000 to ₦2,500
Conclusion 10 Best Amusement Park in Lagos
In conclusion, We both understand that Nigeria is such a hard country to live in; things are very difficult, No Jobs and prices of commodities keep getting higher every day.
These amusement parks in Lagos provides you with the opportunity to hang out with your family, kids and loved ones and share beautiful moments together.
If you are in Lagos, you should consider visiting one of these fun places to have fun and make merry.
Nevertheless, always remember to hustle and bustle. Chop life, problem no dey finish…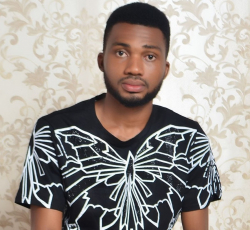 Latest posts by Benjamin Targba
(see all)