Dogs can be found almost everywhere in the world. It's not only white people that love keeping dogs as pets but most Nigerians do too. This post will unleash some of the cheapest dog breeds in Nigeria and their prices.
Nowadays, you can not walk past streets in Nigeria without seeing dogs kept as pets in households, the advent of using dogs as pets has become so widely accepted that most people prefer keeping dogs to cats.
You will agree with me that the most common reason people keep dogs at home is for security purposes. As compared to a security man; you won't be paying a dog's salary every month.
We can see from movies that in developed countries such as America Canada, the United Kingdom, etc…, some breeds of dogs are specially trained to help fight drug smuggling at borders and airports.
Dogs are more sensitive and more intelligent when it comes to detecting thieves, and in the case of danger, a dog will always show signs that something is not normal.
While most agencies and security units use dogs to help fight and detect thieves, some people keep dogs as pets in their homes.
Before you begin to call names like bingo. whisky, rocky etc… when you see a dog, you need to understand that there are different breeds of dogs and it would make sense if you can identify these dogs by their breeds.
Below you will discover some of these breeds of dogs in Nigeria and their respective names and prices in the market.
10 Cheapest Dog Breeds in Nigeria & Prices
If you are a lover of dog pets and hoping to get one in your household soon, below are some of the cheapest dog breeds in Nigeria and their respective prices.
1. German Shepherd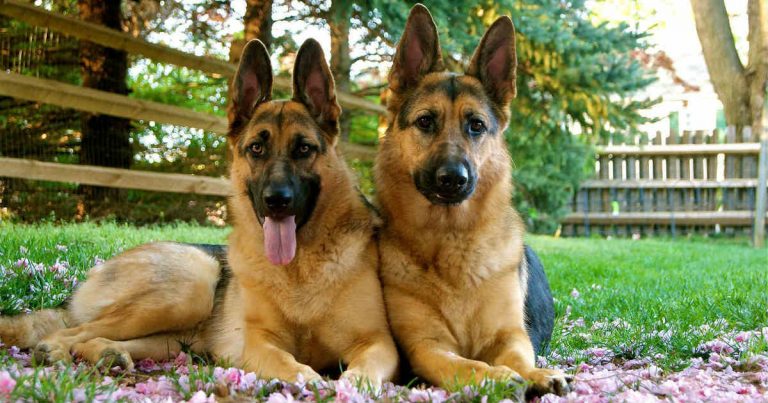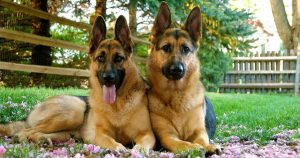 The german shepherd is one of the most popular dogs in Nigeria. It has its origin in Germany, it is otherwise called; Alsatian, Berger Allemand , Deutscher Schäferhund ,GSD, or Schäferhund.
German Shepherd dogs are considered very powerful, athletic, well-muscled, alert, and energetic. Very smooth, very harmonious front and rear hindquarters.
Interestingly, this breed of dog has a very tall body structure with smooth curves rather than angles. The robust body rather than slim, muscular either rest or in motion, giving the appearance that they are agile, intelligent and active neither clumsy nor looks frail.
The perfect German shepherd gives the illusion that he is top standard, with the noble definition of the indistinguishable, but he can tell the difference. Gender identification is rather simple or appeared majestic, based on their gender.
Lastly, the intelligent nature of German shepherd dogs makes them desirable as police, guard, search and rescue dogs not just in Nigeria but in other top countries in the world.
Price of German Shepherd Dog in Nigeria
The puppy price for a German Shepherd dog goes from about ₦150,000 to ₦250,000. However, for adult ones the prices could be higher.
Adult German Shepherd dogs can be purchased for anything between ₦350,000 and ₦450,000 depending on the age of the dog and the place of purchase.
2. Boerboel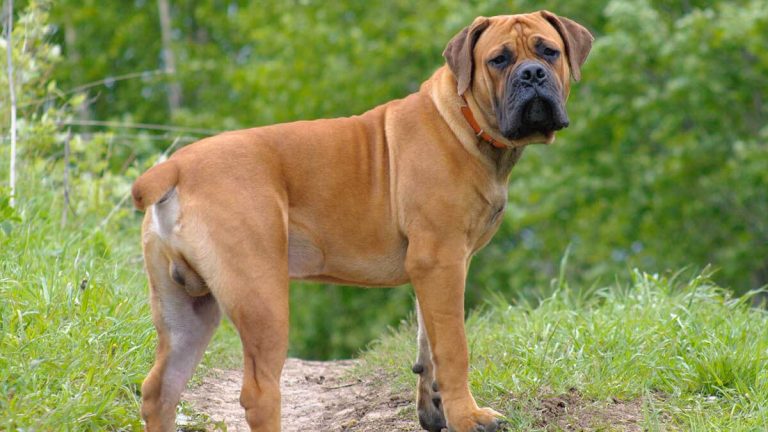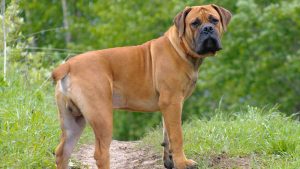 The Boerboel breed of dog is otherwise known as the South African Mastiff, the Boerboel is one of the most common dog breeds in Nigeria.
They have their origin in South Africa where they are used as working farm dogs and are one of the most powerful dog breeds.
Their powerful nature makes them a weapon of defence against predators and was useful to track and keep injured games down. The ancient farmers relate many stories of their Boerboels' strength, stamina, and bravery.
Price of Boerboel Dog in Nigeria
The puppy price of a Boerboel dog in Nigeria goes about Puppy price: ₦150,000 to ₦280,000 while the adult price goes from about ₦300,000 to ₦500,000
3. Rottweiler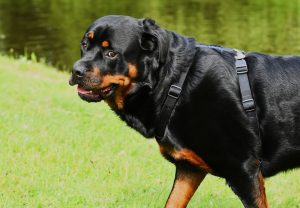 Rottweiler is also a trendy dog found in Nigeria. Also, from Germany, this large to medium-sized dog is hard-working and loves to be active.
These dogs have a predominantly black coat with brown markings on the head, chest, and feet. They can also grow to be quite large, as females weigh between 77-and 110 pounds while males can be up to 130 pounds.
Rottweiler is mostly used dogs in Nigeria, their energic nature makes them ideal candidates for guard dogs.
They are very obedient when well-trained, but they also are known for being fearless and confident. They have a courageous air about them, and they look like you can trust them.
If you are planning on keeping one of these dogs in your home, do understand that Rottweiler dogs can be unfriendly towards other dogs and animals except you train them to be friendly early in life.
Again, you are expected to fence your compound if you ever plan on keeping Rottweiler in your home to avoid tension with your neighbours.
Lastly, we can all agree that the Rottweiler is one of the most dangerous and bad dogs in Nigeria because of its dangerous nature.
Price of Rottweiler Dog in Nigeria
The price of a Puppy goes from ₦150,000 to ₦250,000 while an adult can be sold for around ₦300,000 to ₦450,000
4. Caucasian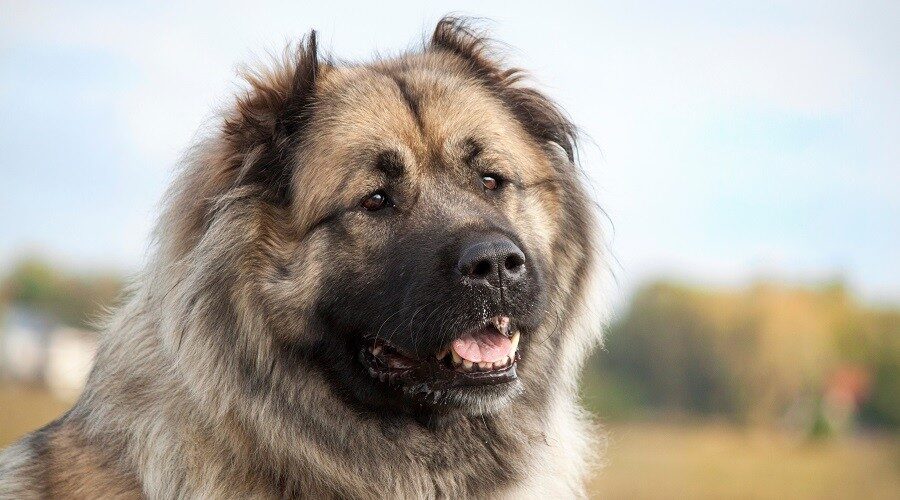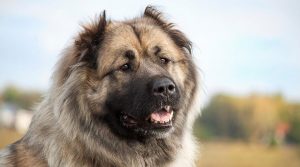 This breed of dog is otherwise called Kavkazskaya Ovtcharka or Caucasian Ovcharka only recently became popular in Nigeria.
Caucasian dogs are kept mostly for security purposes, they are used by large security because they possess the attribute of being territorial and suspicious of strangers and will protect their flock, family, and property from danger.
However, this breed is not suitable for first-time owners, they are for experienced dog owners who can dedicate a lot of time to training and socializing them
They possess a behavioural attitude that is highly spirited, smart, eager guardian dogs. While the Caucasian's aggressive defensive reflex and strong protective instincts are mild and demonstrative with family members, this race is wary of unfamiliar people or pets.
Again, this breed of dog is very persistent and also temperate, but it defends its flock, family, and property with fast lightning from the risk-actual or imagined.
One other factor about Caucasia dogs is they are very hostile to strangers and have high sensitivity for detecting dangerous situations that could result in loss of lives or property.
They also have an adaptive capability that helps them survive and live comfortably in unfavourable weather conditions.
Price of Caucasian Dog in Nigeria
The price for a puppy goes from about ₦100,000 to ₦200,000 while an adult goes for about ₦250,000
5. English Mastiff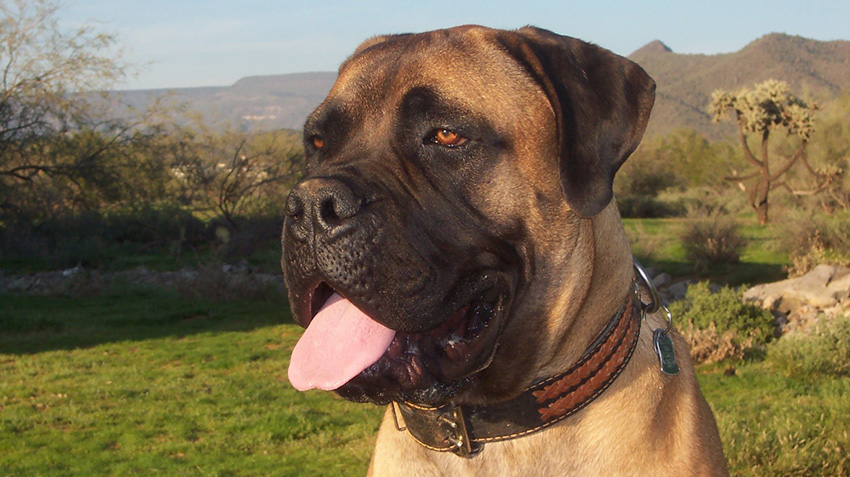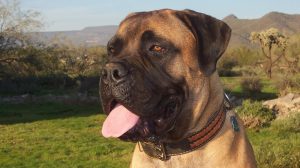 English Mastiff is regarded as one of the biggest dog breeds in Nigeria and those who love dogs of large sizes can always go for the English mastiff.
The breed of a dog contains a mixture of greatness and goodness, bravery, and dullness. Instead of gaiety, integrity is the best mentality for the Mastiff.
In addition, these dogs possess beautiful hairy bodies and lovely eyes that make people prefer them over other breeds of dogs in Nigeria.
Price of English Mastiff Dog in Nigeria
Puppy price goes for ₦150,000 to ₦200,000 while adult goes for about ₦250,000 to ₦350,000
6. Dachshund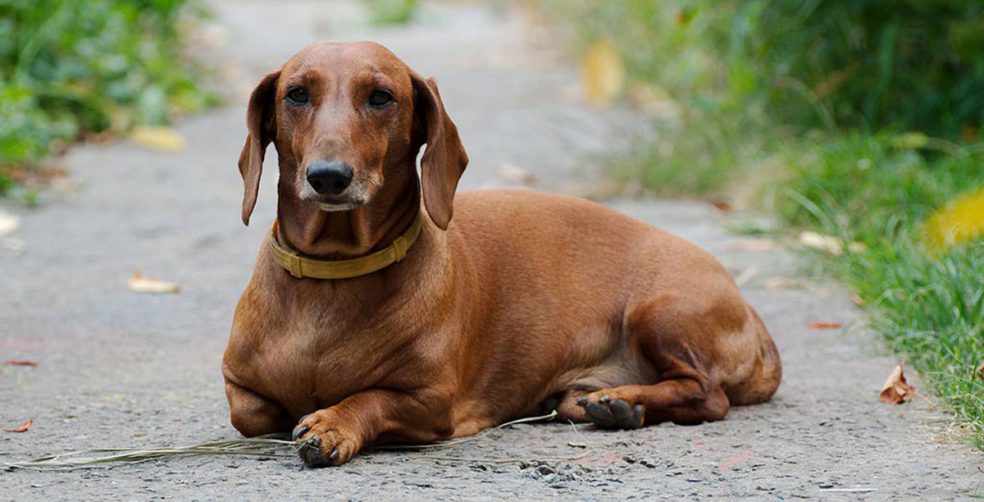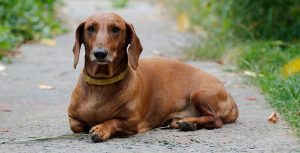 Dachshund dog breed may not be the most popular local breed in Nigeria but its quality shouldn't be overlooked.
This breed of dog is very hostile and strong that its behaviour could scare strangers away from the compound.
You must get permission from your neighbours before keeping one because they bark very loud just like some big dogs and can chase other animals and birds.
The smooth Dachshund dog breed can easily be maintained and groomed. This makes it suitable for people with a tight monthly budget.
Dachshund can habitat well under hot weather conditions in some parts of Nigeria. It can also be kept by beginners because they're easy to train.
You can get them in various sizes, colours, coat types and temperaments. This makes this dog breed to be suitable for almost everyone.
Price of Dachshund Dog in Nigeria
The price of a puppy goes from about ₦,100,000 to ₦200,000 while adults could be about 300 to 350k
7. Cane Corso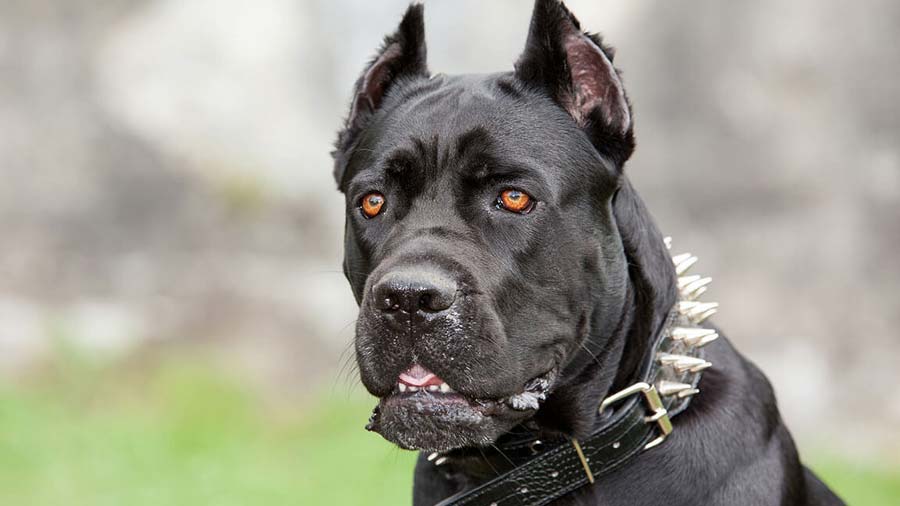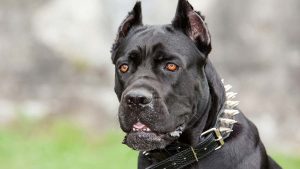 Cane Corso dog is otherwise known as the Italian Mastiff due to its origin in Italy.
Originally this dog breed was developed to guard property and hunt games. The Cane Corso is closely related to the Neapolitan Mastiff. As puppies, they require strong leadership and consistent training and it is encouraged to begin socialization as soon as possible.
Notwithstanding, Cane Corso is one of the best dog breeds in Nigeria because of its fierce attitudes and ability to serve security purposes as well.
Price of Cane Corso Dog in Nigeria
The price of a puppy Cane Corso dog goes for about ₦200,000 to ₦350,000 while adults could be sold up to ₦450,000
8. Beagle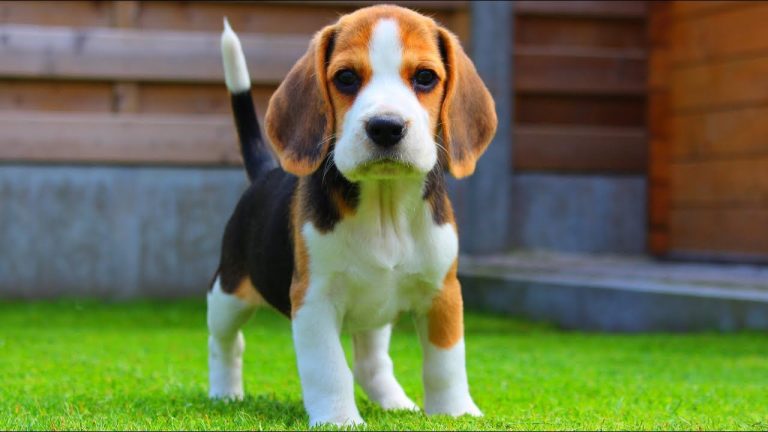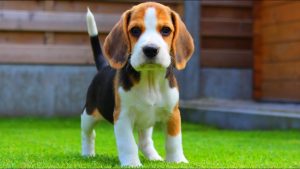 Beagle dogs are kept mostly as pets for children to play with because of their miniature size. If you're looking for a small dog with a gentle temperament, the beagle is the dog breed for you.
Keeping this dog breed in Nigeria entails living in a secured environment and having an active lifestyle. This is because Beagles are friendly to all and will need plenty of exercise in order not to display destructive behaviours.
Beagle is a good pet and can be kept by those living in an apartment. They are not dangerous and will not be aggressive towards your visitors, neighbours and children.
However, their calm nature makes it easy for thieves to find their way to the house and often times beagle dogs are easily stolen.
If you are looking for the best pet dogs you can always go for the beagle breed, however, they are not good for security purposes.
Nevertheless, beagle dogs can be stubborn and show a little bit of aggressiveness if you fail to train them properly on how to behave.
Price of Beagle Dog in Nigeria
Beagle dogs are a very cheap local breed of dogs in Nigeria. The price for a puppy goes from about ₦50,000 to 100k while adults could be less than ₦200,000
9. Tibetan Mastiff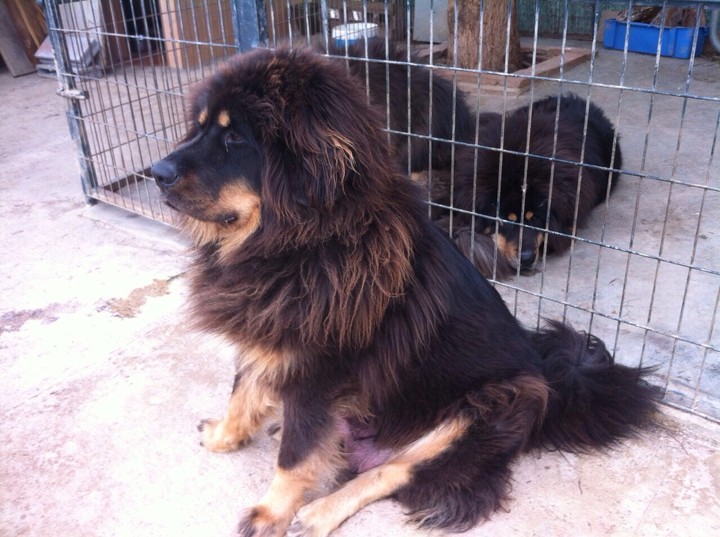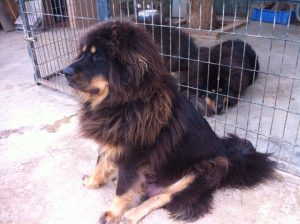 This dog breed has its origin in China and is one of the most dangerous dog breeds in Nigeria. They have a very long lifespan and can live many years without getting old or weak.
The Tibetan Mastiff is arguably the most expensive dog in the world! which is probably why they are so rare in Nigeria although a few 'brave' breeders breed them.
Price of Tibetan Mastiff Dog in Nigeria
Tibetan Mastiff is one of the most expensive dog breeds in Nigeria. The puppy price alone goes from ₦750,000 to ₦1.5 million

10. Chow Chow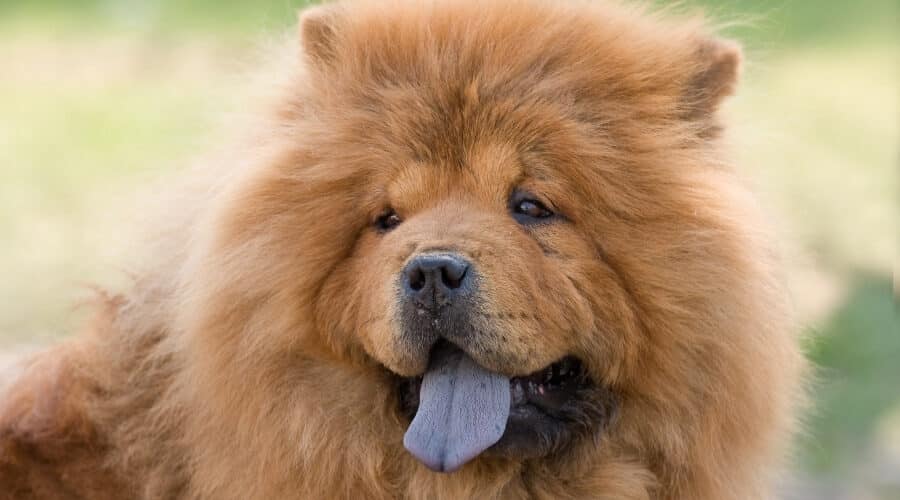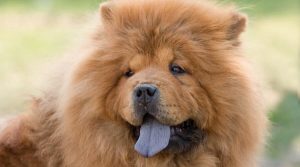 Chow Chow may not be the most popular dog for everyone are steadily becoming popular in Nigeria, a lot of people are still unaware of their presence.
This breed of dog is known mostly for its thick mane and purple/blue-black tongue.
The Chow Chow is a dog breed originally from northern China, where it is referred to as Songshi Quan which means "puffy-lion dog"
Price of Chow Chow Dog in Nigeria
The price of a puppy goes from about ₦150,000 to  ₦200,000
Household Dog Pet Names
Most times when people keep dogs as pets in their homes, they decide to name the dog as it pleases them without even considering if these dogs have specific breed names.
If you have a dog pet and looking forward to naming it the way you want, below are some common dog pet names.
Male Dogs
Jack
Major
Rex
Bingo
Rocky
Chuck
Justice
Sergeant
Bruno
Forest
Zeus
Jimmy
Rusty
Bullet
Scar
Shadow
Scooby
Troy
Pablo
Caesar
Female Dogs
Sheeba
Lucy
Daisy
Ginger
Sally
Sasha
Sandy
Dakota
Katie
Mulan
Jasmine
Chelsea
Princess
Missy
Sophie
Maya
Coco
Tasha
Sparkle
Dogs for Sale in Nigeria
If you want to explore or visit the dog market in Nigeria. you get dogs for sale in Nigeria either by visiting physical shops where dogs are raised and sold or purchasing them online via petshop.
Conclusion: Dog Breeds in Nigeria
In conclusion, there are numerous dog breeds in Nigeria. However, this post highlights the cheapest and popular dog breeds in Nigeria and their prices.
If you are looking forward to having a dog pet, you can select from the breeds above with a name for your dog pet.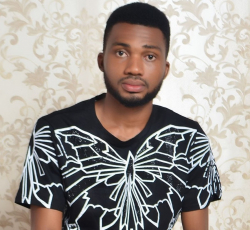 Latest posts by Benjamin Targba
(see all)