The beach resorts in Lagos include both private and public beaches. If you are looking to relax with family and friends or just enjoy a quiet time by yourself, you can try any of the best beach resorts in Lagos.
Beaches are perfect for corporate retreats, networking or team bonding activities. They are also ideal for taking time for personal reflection and keeping you far from the noisy city buzz.
Holidays and weekends as well as festive seasons where people patronize beaches for relaxation and fun.
There are many beaches in Lagos, all of which bring many holidaymakers back time and time again. These beaches give you a refreshed feeling when you have a date with their sensational atmosphere.
Just like Amusement centres, We have a good number of private beach resorts in Lagos, scattered across Lekki and Victoria Island. If you are a Lagosian and looking forward to patronizing one of these beaches soon. Kindly check out the best beach in Lagos below.
10 Best Beach Resort in Lagos
If you are planning on visiting one of the Lagos beaches anytime soon, kindly consider some of these top beaches.
1. Atican Beach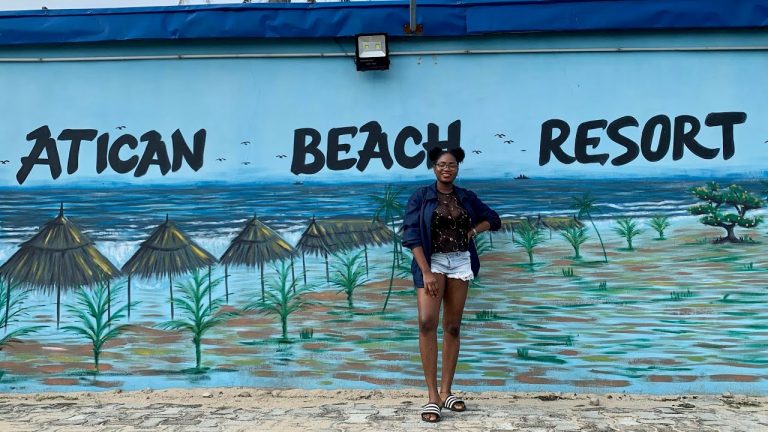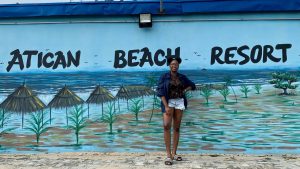 Atican Beach is a private beach, it is located along Abraham Adesanya Road, Okun, Ajah, Lagos. The beach is widely known for its white sand and clean environment.
As one of Lagos' far off beaches, it is less crowded than most others. Although some of its entertainment activities are limited; it doesn't make it less of a serene and fun area.
You can sit back and watch the tides or settle down in a quiet spot to get work done—the ideal getaway for digital nomads.
In addition, Actican beach has so many interesting facilities that will thrill you and set you to enjoy the wonderful atmosphere under the sunlight.
These facilities include; a play area for children, a swimming pool and convenient lodging for those looking to spend the night. If you're feeling peckish, a restaurant and a bar are also available where you can eat Nigerian delicacies, and most interestingly; Suya.

2. La Campagne Tropicana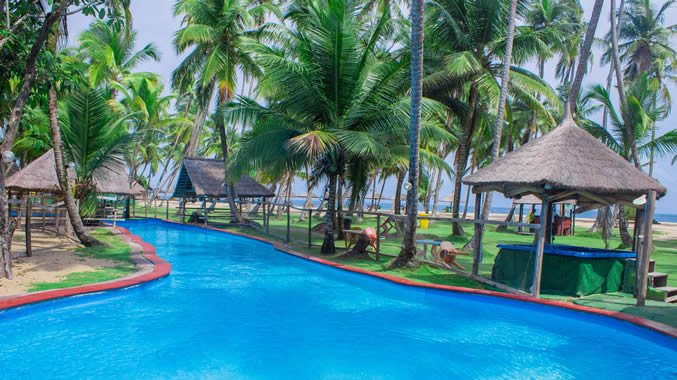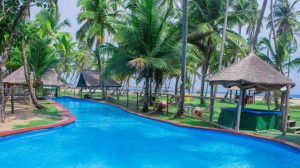 This beach resort is located at Ibeju-Lekku and can be accessed from Lekki Epe Expressway, off the highway at Ikegun. La Campagne Tropicanais one of the most popular beaches in Lagos, Nigeria.
Furthermore, the beach contains a stunning, modern beach resort environment that covers about 60 acres on the coast of the Atlantic Ocean.
The rooms at the resort are designed to showcase African interior designs and décor. Visitors here can enjoy activities such as kayaking, horse riding, swimming in outdoor pools or relaxing in tree houses.
3. Elegushi Beach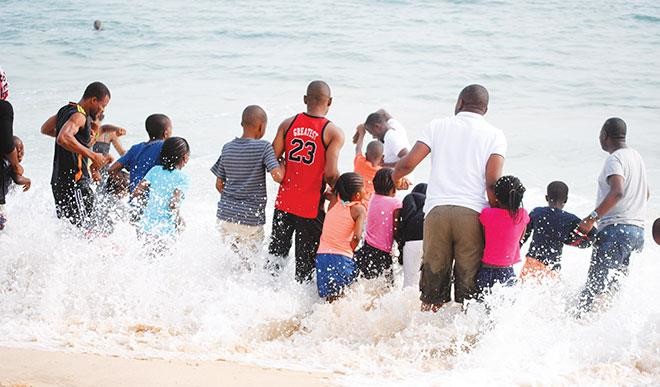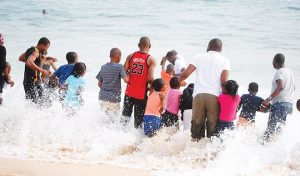 The Elegushi Beach is one of the most popular beaches in Lagos owned by the Elegushi Royal Family.
Unfortunately, there have been claims lately that but has very poor management. But that doesn't make it less of the most patronized beach in Lagos.
Similar to Tarkwa bay, Elegushi beach has a good number of lounges such as; Wave beach, Skyfall lounge, 100% bar and lounge, Mood lounge and the likes so you might want to patronize these lounges to have a more inclusive experience.
There is also a Night club specially built inside the beach for those who patronize nightclubs in Lagos.
Looking at the gate fee; the Elegushi beach gate fee goes about ₦2,000 for adults and ₦1,000 for kids but you have to rent chairs, music speakers and tents.
The price for seats and tents varies base on the seller you get them from but the cost ranges from ₦1,000 to ₦5,000.
4. Eleko Beach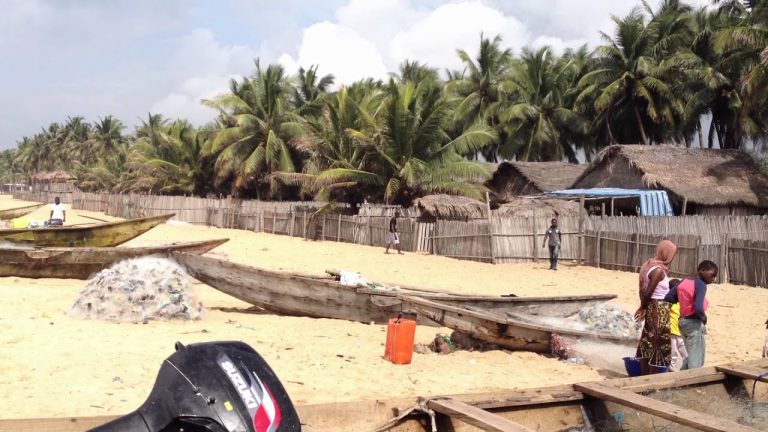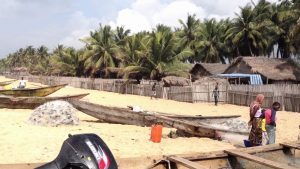 Eleko Beach is sited along Lekki-Epe Expressway on Eleko Beach Road, which is one hour drive from Lekki Phase 1.
The Eleko beach is a public beach with a clean and refreshing environment, it is less crowded than others. Visitors can also enjoy horse riding, sports and kayaking. Refreshments on the beach include grilled seafood: prawns, crabs and fish, and you can savour the taste of tropical life in the form of fresh coconut juice hawked on the beach.
To spice it up, Eleko beach also has bamboo huts where visitors can get some shuteye. And you can't forget the souvenirs! There's a local art market where souvenirs can be purchased.
5. Oniru Beach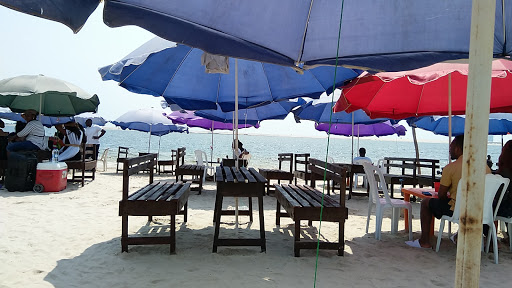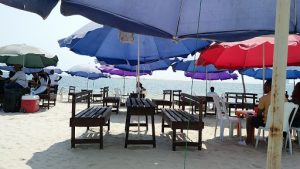 We can not list some of the best beaches in Lagos without adding Oniru beach to the list.
Oniru Beach is one of the most visited private beaches in Lagos. Similarly to Elegushi beach; It is owned by the Oniru Royal family. The beach stands out from the other because it is neatly kept and offers you a perfect, serene and tranquil environment for an ideal time away from the hassle of Lagos city.
Oniru Beach is located in the heart of Lagos city on Victoria Island. It is often patronized for holiday events and parties.
6. Santa Cruz Beach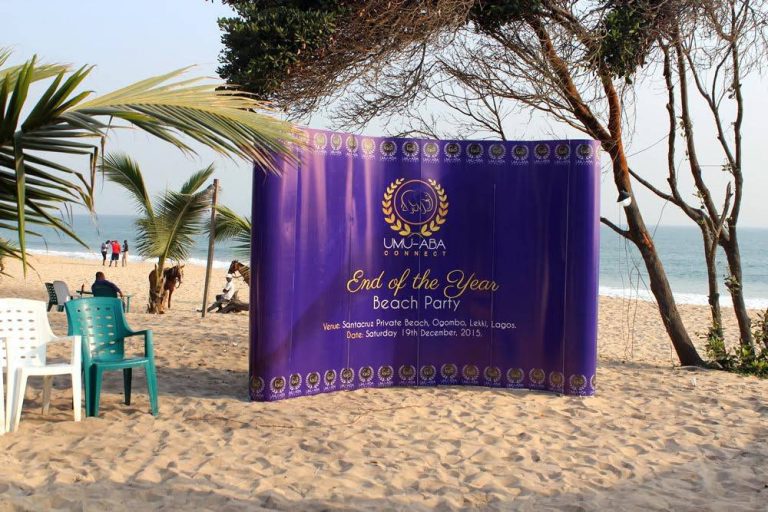 Santa Cruz beach is nothing but a beach full of fun, cruise and jolly. If you are looking forward to doing something exceptional on your birthday that doesn't involve going to clubs or parties you should consider taking a tour visit to Santa Cruz.
They have a flexible beach management team that always set the needs and pleasures of its customers first and thrill you with their hospitality.
The Entrance fee for Santa Cruz Beach goes around ₦2000 but you would have to pay a one-off fee of N5000 to bring in your food and drinks.
7. Tarkwa Bay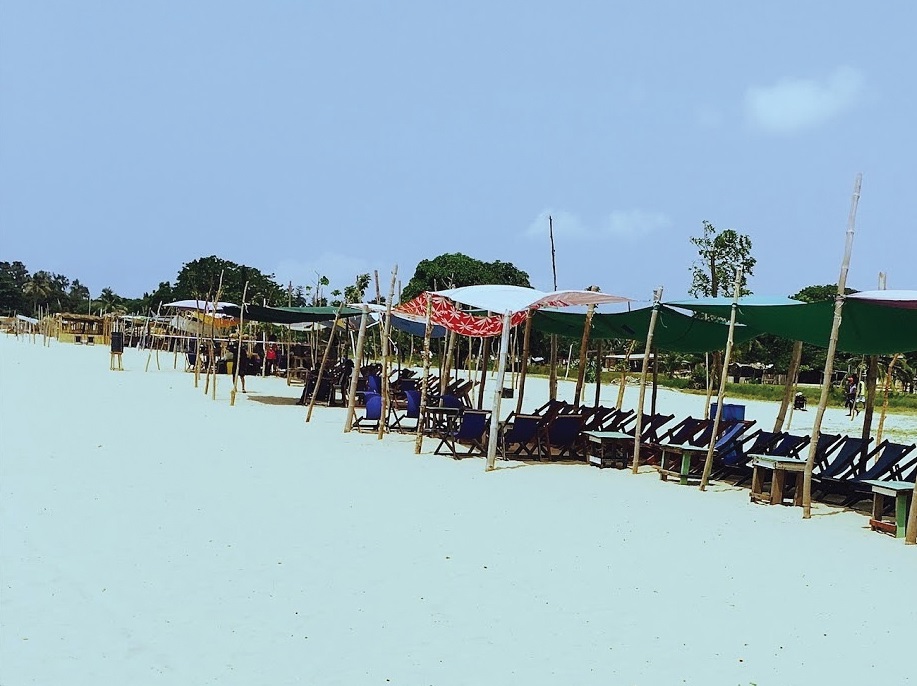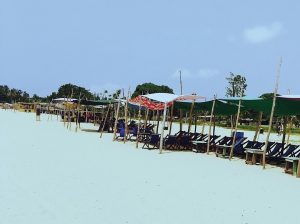 The Tarkwa Bay Beach is an artificial sheltered beach located near the Lagos harbour. Because of its island status, Tarkwa Bay is only accessible by boat or water taxis, and you can catch a boat from the Lagos Marina or Victoria Island.
You can also hire a boat from the Lagos Oriental Hotel, although this option might be more expensive.
There are a lot of fun activities you can do while at Tarkwa Bay, activities such as; football, volleyball, and the water is shallow for novice swimmers.
Again, at Tarkwa Bay you are be allowed to bright your own food and drinks so you won't end up spending money buying the ones sold there at a high cost.
8. LandMark Beach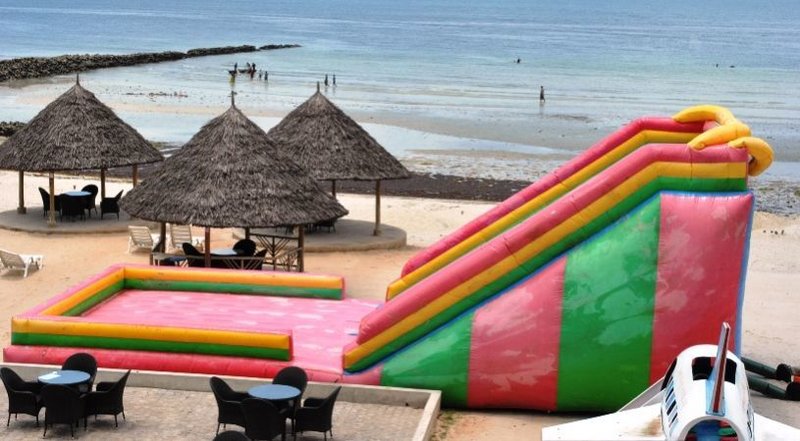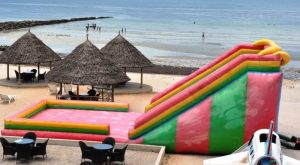 Landmark beach is the first premium beach in Lagos and has the first floating inflatable Water Park in Nigeria, it is a luxury and lifestyle relaxation beach. It is probably the most organized, clean and expensive Public beach in Lekki.
Gate fee for Landmark beach is about ₦2,000 per adult and ₦1,000 for kids under 13, the seats cost N2000 and it doesn't come with any cover.
Cabanas cost ₦25,000 and corkage fees and get up to ₦45,000 depending on the number of coolers you are carrying.
9. Whispering Palms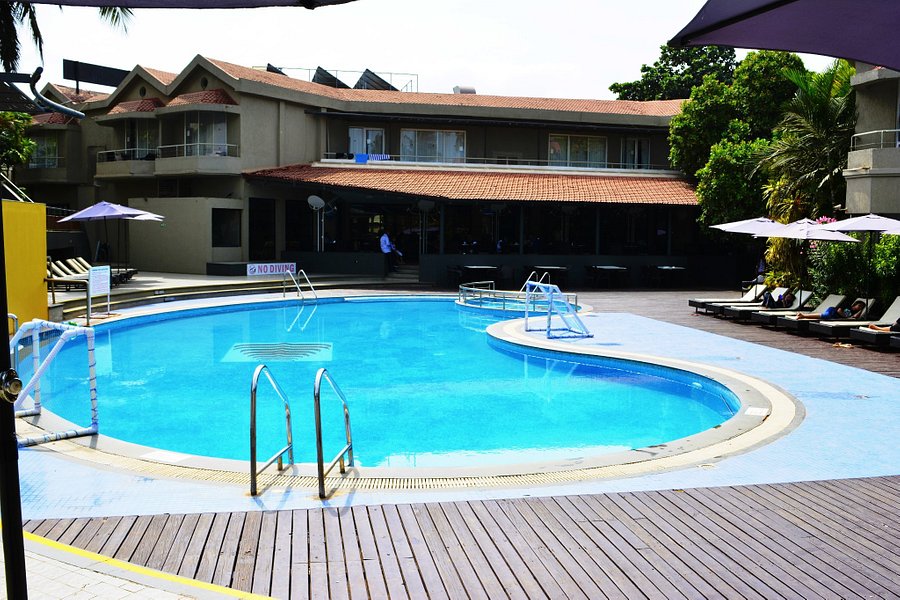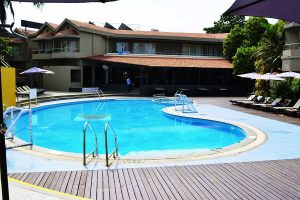 This Whispering Palms is one of the finest beach resorts located in Adijo town, Badagry. You can visit either by road which could take about three to four hours depending on the part of Lagos you are coming from.
You can also visit the beach by boat or ferry, from Fiki Jetty at Ozumba Mbadiwe in Victoria-Island or Tarzan Jetty at Maroko-Foreshore at Lekki (Opposite Maroko Police Station) on Lekki-Epe Expressway.
Whispering Palms is surrounded by so many beautiful tourist attractions which always make people want to come there and explore.
10. Lekki Leisure Lake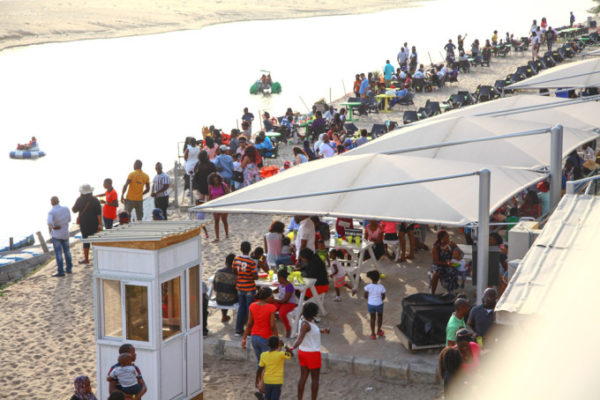 The Lekki Leisure Lake is located at Block 1, Plot 3, Okunda Blue Water Tourism Scheme, and you can get there from the Lekki-Epe expressway.
Lekki Leisure is a home for outdoor relaxation, the beach is filled with so many aspiring outdoor activities and water sports including jet-skiing, quad biking, zip-lining, pedal boating, and others.
In addition, they have good security personal around to ensure the safety of everybody there so parents with children will be more comfortable coming here.
Other Private & Public Beaches in Lagos Include;
Coconut Beach Badagary
Jara Beach
Redline Leisure Beach Resorts Ajah
Napex Beach Store
Sail Harbour Resort
Sutan Beach
 La Manga Luxury Beach Resort, Ilashe
Eko Tourist Beach Resort
Kamp Ikare Beach Resort
Jaybee Beach Camp
La Casa, Ilashe
Read Also: Best Amusement Parks in Lagos
Conclusion: Best Beach in Lagos
In conclusion, These beaches were made for you and me so we have every opportunity to visit and use them to the fullest.
If you are getting too hard on yourself, once in a time take out some time off work and visit some of these beautiful beaches in Lagos and have fun.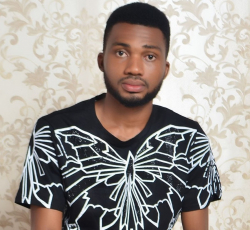 Latest posts by Benjamin Targba
(see all)