Have you been looking for some flashy plain and pattern styles for men in town? Then, you are on the right page as we have curated the latest plain and pattern styles for men here. Happy reading!
Plain & pattern, what does it really mean?
A plain object, surface, or fabric is entirely in one color and has no pattern, design, or writing on it.
Do Men really care about fashion? Lately, almost all men have fallen in love with plain and pattern styles. This is probably because it looks good on almost everyone and gives the individual rocking it a kind of adorable look. However, we have 'English Plain and Pattern Styles' and "Native Plain and Pattern Styles."
The plain fabric can either be silk, cotton, cashmere, chiffon, or organza while the pattern fabric can either be kente, Adire, Ankara, Kampala, or any other English fabric. Plain and pattern materials can be used to achieve various styles which we are going to list below.
Latest Plain And Pattern Styles For Men 
Plain and Pattern styles are one of the few men rock easily and are in trend now. The ability to diversify and be individualistic while rocking it is probably one of the numerous reasons the style is still trending. Let us however take a look at some pics of the latest plain and pattern styles for men below:
Ankara Plain and Pattern Style For Men
Ankara fabrics are becoming more popular in Nigeria Fashion. Ankara can be used to style almost every other fabric as plain and pattern style isn't excluded. Plain and Pattern Styles are not limited to the English patterns alone. Let's take a vivid look at some of the plain and patterns styles for men in Ankara
Ankara Plain and Pattern Styles For Couples 
In this part of the world, Nigeria, it is commonly observed that couples love to go out for dinners, ceremonies, and outings generally in matching outfits. Ankara fabrics are one of the top-most they (the couple) consider while picking matching outfits. See photos of some Ankara plain and pattern styles for couples below:
Read Also;
Latest Ankara Styles for Wedding Occasion
Conclusion: Latest Plain And Patterns Styles For Men 
Conclusively, plain and patterns styles can either be in "English plain and pattern" or "Native plain and pattern." Whichever of these you intend to choose, we hope you find the above pictures fascinating enough to choose from. However, always remember that "The way you dress is the way you'll be addressed." Hence, be fashioned-driven and dress well!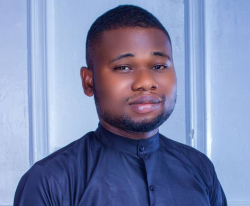 Latest posts by Gideon Agbaja
(see all)