Do you wish to study in Hungary? this guide will reveal the University of Miskolc Admission requirements and cost to study
The University of Miskolc is a public institution which is located in Miskolc in Hungary. The university is known for having a tranquil, natural ambience on its lush campus.
The European Organization for Quality has recognized the University of Miskolc for the excellent way in which its educational programs are organized.
Do you aspire to study at this esteemed institution in Hungary? Let's discuss the prerequisites for applicants seeking admission to the University of Miskolc.
University of Miskolc Admission Requirements

Below are the detailed instructions on how to submit an application for admission to the school:
First, you have to choose a study programme
Gather your application materials.
Deposit the $150 (non-refundable) application fee into our University's bank account.
The University of Miskolc will send applicants a formal email confirming receipt of their application.
Those who have submitted valid applications will move on to the interview round of the selection process.
All candidates will receive an email with the precise date of the interview.
The Conditional Letter of Acceptance will be sent to you. We respectfully ask that you transfer the first semester's tuition.
Money is only refunded in the event that your arrival is prevented by a VISA denial.
Make sure to submit your application and transfer the tuition fee before the deadline.
Important: When registering during the Registration Week of the specified term, the original degree and its verified translation must be supplied. You cannot enrol and begin your studies at the University of Miskolc without them.
An Overview of the University of Miskolc
The University of Miskolc is located just North of Hungary, at the foothills of the Bükk Mountains, in the city of Miskolc. The city serves as the geographic hub of Northern Hungary.
The university serves as a significant centre for scientific and cultural research in addition to being a traditional institution of higher education.
It boasts a large (85 hectares) and beautiful campus with on-campus housing for students, as well as first-rate sports and recreation facilities (including many tennis courts, high-quality athletic fields, and soccer fields).
All of the lecture halls and laboratories are outfitted to a high degree, and the roomy workshops include cutting-edge technical equipment that enables pilot-scale research.
The university buildings include high-speed computer networks and broadband wifi connectivity, including a huge central library with plenty of computer terminals.
It is uncommon for students to need to use the high capacity and well-organized public transportation to go to the city centre within 15 minutes because the serene and largely green campus offers all the facilities needed for not just their academics but also for their daily lives students.
The distinctive traditions of technical higher education, which were established in 1735, are shared by the faculties of Earth sciences and engineering and of materials science and engineering. At the institution's forerunner, this was acknowledged as the first of its kind in the world.
Mechanical Engineering and Informatics, which was founded in 1949 at the university's current location, has the largest faculty. In recent years, other faculties have been formed to provide top-notch instruction and research in the humanities, health sciences, music, and social sciences (law, and economics).
The University of Miskolc is given a unique colour and taste by the complexity presented at the entire campus. There are study options for the bachelor's degree (6-7 semesters), the master's degree (4 semesters), and the doctoral degree (4 years).
The majority of postgraduate courses in the technical, social, and humanities subjects are also provided in English. The courses were created with practical applicability for both present and future requirements in mind and are based on solid theoretical underpinnings.
The courses are created to use cutting-edge approaches, and the balance between teaching and practice is excellent.
The university's foreign student population, which includes students from about 50 different nations, is growing. Our International Office is happy to have them and will take good care of them.
All incoming international students are given the option to live in the on-campus residence halls, but in the event of exceptional needs, the friendly and accommodating office staff is there to help.
A group of Hungarian students who volunteer their services and are also under the supervision of our team provides special mentoring and guidance.
The university's student traditions, carried on from the institution's founding approximately three centuries ago and observed in their professional communities, are one of its unique features.
The opportunity to actively participate in all research projects conducted by the institutes and departments in all specialist subjects is provided to both domestic and foreign students.
The top students can participate in a range of international competitions as well as periodic scientific conferences.
Their website www.uni-miskolc.hu has information in English on the organization of the university, its courses, and its global research initiatives.
University of Miskolc Programs, Courses and Schools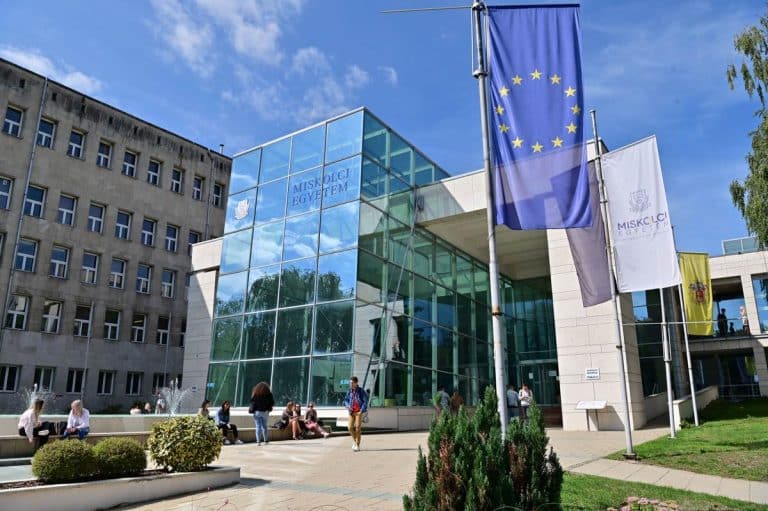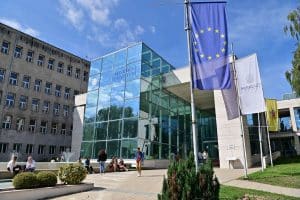 Seven academic faculties, two institutes, two research institutes, and one academy make up the structure of the University of Miskolc. It provides undergraduate, graduate, and doctoral degree programs in a range of subject areas.
In addition to regular classes, there are also distance learning, study abroad, and research programs.
More than 15,000 students and more than 800 highly qualified faculty members call it home.
Also, students may submit applications for advanced vocational programs, post-graduate training, scholarship programs, double-degree programs, programs for international ambassadors, and summer programs. It is a really cutting-edge university.
University of Miskolc Campuses
The University of Miskolc has a sizable campus with 850,000 square meters of contemporary structures and lush landscaping.
Facilities include a canteen, museums, archives, a complex, IT support, a student centre, internet access, a sports facility, a fitness centre, a theatre, a cultural centre, a healthcare centre, an auditorium, labs, and innovation spaces available to students.
Cultural and intellectual events are organized by student groups and councils. The university press publishes magazines and other materials.
The main library is well-stocked with books, reference materials, exam papers, publications, journals, research manuals, archives, catalogues, and magazines.
There are computer labs, databases, online services, a digital library, study rooms, lecture rooms, online borrowing services, and resting places.
University of Miskolc Ranking and Achievements
The University of Miskolc is the largest university in Northern Hungary.
It is one of the top 10 institutions in the nation and is ranked among the top 9% of universities worldwide.
It is one of the top 2000 universities in the world according to Webometrics.
It is one of the top 1000 universities in the world according to the QS Global University Rankings. It is now ranked 121st by EECA. It has received numerous more honours.
University of Miskolc Scholarship
The University of Miskolc offers its students a sizable number of financial aid packages. The university and other organizations give students grants, loans, and scholarships.
Students that meet the requirements must apply for these opportunities.
Conclusion: University of Miskolc Admission Requirements
In conclusion, Studying in Hungary comes with a good study experience. The University of Miskolc offers admission opportunities for international students together with access to loans and even grants to support them.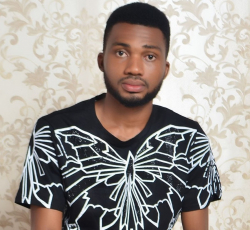 Latest posts by Benjamin Targba
(see all)