Looking for the Best Catering schools in Abuja to enrol in catering classes?. Have a seat as we review some of the best and most affordable catering schools in Abuja and their fees.
What is Catering?
Catering is the business or service of providing food service at a remote site or a site such as a hotel, public house, wedding, or other location.
Have you ever attended a party, seminar, anniversary celebration, or even a wedding and got served? probably a good meal that was so delicious that you could hardly get it off your mind? I bet yes is the answer.
But do you know most of the good meals you enjoy at public events are being served by caterers? Now you know, having understood what catering is all about, let's quickly look at the types of caterers.
So we have 3 basic types of caterers;
Hotel or restaurant Caterers
Mobile or delivering Caterers
Private or full-service Caterers
Hotel or restaurant caterers carry out activities like menu preparations, table setup, banquet arrangements, seats, maintaining the deliverables, and carefully sourcing the staff.
On the other hand, Mobile/delivery Caterers often bring food via food carts, delivery services, or food trucks. This service is cheaper than most of the other availabilities.
This type of service needs fewer involvements and relies mainly on the demands of the clients.
These days, you can find many caterers on Whatsapp offering food delivery services
Private caterers are event caterers, as the title suggests, privately owned and operated businesses. The success of an event mainly lies in the way a private caterer designs a plan and goes about it, carving a niche both for the client and one's own journey.
It's, therefore, important that a private caterer should follow the client's expectations in a standardized and customized manner.
Best Catering Schools in Abuja and Fees
If you aspire to become a caterer below are some of the best catering schools in Abuja with their respective school fees
1. Chef Academy
Chefs Academy is a renowned catering and chef school in Abuja, established in 2013,  Chefs Academy offers a unique experience, it is evident that Chef Academy students not only master the art of cooking but also acquire the tools and know-how to make their dream of becoming an entrepreneur in the world of culinary arts come true.
Chef Academy offers the following services;
African Culinary Art
Cake Baking Art
Chefs Academy Junior (Summer)
Continental Culinary Art
Diploma in Culinary Art
Desserts/French Pastry Art
Advance Continental Culinary Art
Professional Diploma in Culinary Art
Healthy Living Cuisine
Read Also: Best Nursing Schools in Abuja
Chef Academy Fees
Unfortunately, we could not get the school fees for Chefs Academy, however, you can reach out to them via the following lines 08092189734, 08155633650
Read Also: Nigerian Navy Secondary Schools, Fees & Location
2. De Praise Catering Services School
De Praise Catering Services School offers professional training courses and programmes on cookery, bakery, and small chops, and also offers certification on all catering courses.
It is located Behind Junior Secondary School Air-Port Road, Kuchigoro, Abuja FCT Nigeria.
you can reach them via 08101073623
3. Hand Catering Training school
It's one of the finest catering schools in Abuja, it is located at Dogon Daji street, off Market Road, Kubwa, Abuja, FCT.
You can also contact them via 08036185746
4. Owende Catering School
Owende Catering School/Restaurant is fully equipped with state-of-the-art facilities for production deliveries and all other forms of service.
It is located at zone-3 NO, 43 Abijan St, Wuse 904101, Abuja
you can also contact them via 08032354084
5. Pristine Culinary Catering School
Pristine culinary catering school is also one of the finest catering schools in Abuja. It is located at No. 17, Pristine Street Behind Crush Rock by First Borehole, Mpape, 901101, Abuja
you can also reach out to them on phone via 08036506693
6. Abuja Culinary School
Top Culinary School in Abuja offers certified diploma programmes. Cuisine & Patisserie Baking Masterclass MIB plaza, Ist Avenue Gwarinpa.
You can call them via 08130259200
7. Mastermind Catering and Culinary Institute Limited
Mastermind catering school is one of the biggest in Abuja,
The programmes of study at Masterminds Catering and Culinary Institute aim to offer you the practical competencies required for employment in the catering and hospitality industry and further studies within this sector.
Programme also seeks to provide learners with transferable skills aligning with the principles of foundation training in culinary and hospitality, further instilling work-ready skills through practical training opportunities in a realistic working environment.
Mastermind catering school is located at Plot 83M, David Lot Close, off First Avenue, Gwarinpa, Abuja, Nigeria. Tel; 0809 555 9992 (Academics) 0810 073 8923 (Admin)
8. Oceanic Catering Nigeria Limited
Oceanic Catering Nigeria Limited specializes in baking and other professional catering services. they are located at N0 1, Mazafalah Shopping Complex, Karu Site Roundabout, Karu, Abuja, FCT, Nigeria
9. Hand Catering Training school
Hand Catering Training School is one of the training centres where you can learn a wide range of catering services from cookery to pastries and many more. they are located at Dogon Daji street, off Market Road, Kubwa, Abuja, FCT
10. Kays Training School
Kays Training School is a pastries training centre for classes on bakery and decoration, sugar-crafting and sugar coating and lots more.
The address is at NAOWA Shopping Complex, Close to Niger Barracks, Asokoro, Abuja FCT Nigeria

0816 612 4625, 0803 606 0129
How Much Does Catering School Cost in Abuja?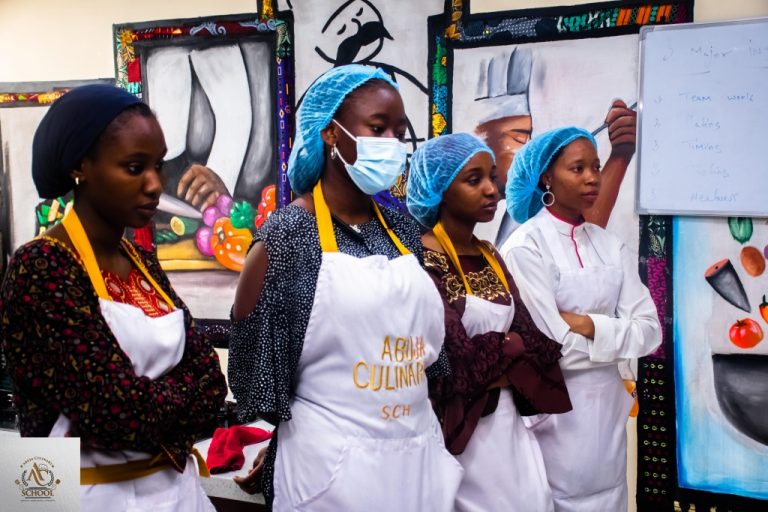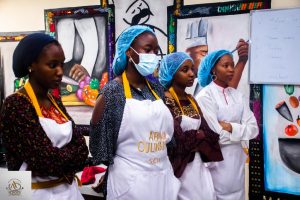 After deciding to attend Catering schools in Abuja, the next thing to consider is the costs involved.
Generally, these fees depend on the services they are going to render you. Then questions like: Are there accommodations for students? Is the environment conducive, Materials for training, etc?
All these are considered by these schools before fixing prices for students. Of course, you wouldn't want to be in a school that has no materials for practicals, and of course, you would prefer if such schools have accommodation for students.
Generally, the amount charged by these catering schools in Abuja depends on the particular school. But according to my research, catering schools in Abuja can cost you anything between N30,000 and N250,000. However, it is best to contact the school to get their specific costs and fees. This is because what I just gave is an estimate according to my research.
Read Also:
Best Music School in Port Harcourt
Most Educated States in Nigeria
Conclusion: Top 10 Best Catering Schools in Abuja
In conclusion, catering is one of the most sought-after professional skills to acquire. If you have made your way far in catering then congratulations.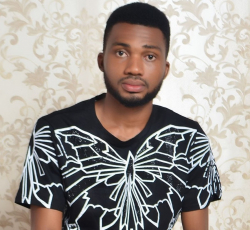 Latest posts by Benjamin Targba
(see all)