Is JAMB really harder than WAEC or it's just a misconception?
The revolution of Computers and ICT has impacted virtually every sector of our lives. The transition has influenced businesses to education as they are among the most impacted areas.
This revolution has had a profound impact on education, testing, and evaluation. New techniques and technologies have been created as a result, empowering people.
The e-revolution, as it is also known, has transformed society by requiring computers for all tasks. Schools should not be excluded from implementing computer-based tests, or CBTs.
This is due to the fact that it does away with the drawbacks of PPTs, or paper-pencil tests. For instance, administering tests and manually scoring the results, grading each student's performance, and so forth.
The differences, difficulties, and advantages of the PPT and CBT systems are covered in this article.
We'll use JAMB and WAEC, two of the nation's most important exams, as an example. You can determine which is more difficult based on this comparison.
CBT Exams (JAMB) Vs PPT Exams (WAEC)
The term "computer-based test" (or "CBT") refers to tests and evaluations carried out using structured computer programs. With the aid of computer-based examinations, students can gauge their own progress.
It's an excellent technique to assess students' lower-order abilities, such as knowledge, comprehension, and application of what they have learned.
The term "paper-pencil test" (PPT) refers to a style of evaluation in which pupils read the questions and provide written or coloured responses.
Being a test in which the questions are given to the pupils and they must write or shade the correct answers on answer sheets. Students are expected to arrive at the exam site equipped with the necessary writing supplies.
Is JAMB Harder Than WAEC?
Is JAMB more difficult than WAEC? I think what you're asking is whether WAEC is more difficult to pass than JAMB or if UTME is more difficult.
Some students who performed well in their SSCE but poorly in the UTME may have been present. Regarding what will be covered in the UTME, you ought to have scepticism.
You ought to have observed admission hopefuls doing some obvious JAMB preparations.
These make it simple to infer that JAMB will be more difficult than WAEC. How accurate is this stance, though?
Moreover, UTME is a central examination, much like the SSCE, which is WAEC. The JAMB curriculum is more complex and advanced than the SSCE curriculum. Questions in the UTME are therefore to be expected and typically harder than those in the WAEC.
While your SSCE or internal exams may restrict the topics you are tested on, JAMB typically assesses applicants' thorough knowledge of all disciplines.
In this piece, I'll respond to this query and outline my position in as few words as I can for your benefit.
1. UTME Questions are All Objective
The UTME, or Joint Admission and Matriculation Board examination, is made up solely of objective questions. Candidates taking the test may find this to be a hindrance.
You are tested in more ways than just multiple-choice, objective questions while taking the WAEC (options A -D). Your knowledge of theory will also be tested on the WAEC exam.
With this, you can make up for any questions you don't know the answers to in the objectives by using your understanding of theories and practicals.
It goes without saying that you could be surprised by some students who perform poorly on WAEC objective questions when they write responses for the theory sections of the questions.
In contrast, you are strictly tested with objective questions for the UTME. Since there is no writing required for the UTME, students whose strength is writing may be let down.
This does not necessarily imply that students who enjoy answering objective questions will perform well on the UTME. If you genuinely understand the solutions, only you will benefit.
Regardless of the exam, objective questions are simple. If you already know the solution, you understand it; otherwise, you don't. There isn't a middle ground!
2. Time Can Impact Your UTME Performance
You have more time in Senior Secondary Certificate Examinations like the WAEC than the constrained time for the UTME. Students frequently submit their work much earlier than the deadline.
However, you may enjoy the favour of a supervisor who is sympathetic to your desire to submit a little later. As a result, while writing the WAEC, time may be on your side.
You only have two hours for the UTME, which consists of 180 questions across four disciplines. No matter your justification, the computer-based system won't let you spend more than that minute.
In reality, I've observed instances where students were compelled to complete the test in under the allotted 2 hours because of technical issues at the CBT centres.
This is why, when taking the Unified Tertiary Matriculation Examination, time may be your enemy.
You will see the timer counting down on your screen, unlike WAEC. For newcomers like you, this can become somewhat difficult.
3. Computer-Based Test Environment May Limit Your Performance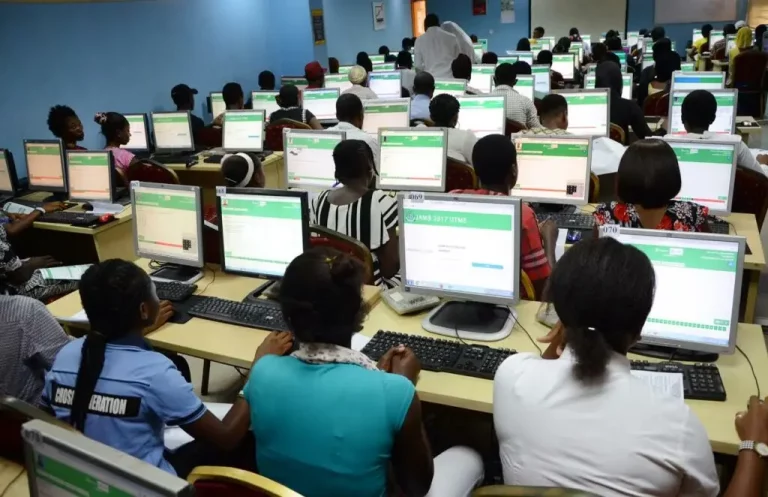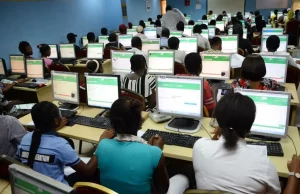 Do you know that the environment or setting where you're writing an examination plays a very important role in your success?
You spend more study time taking paper-and-pencil examinations than computer-based tests in primary and high school (if at all). This is why entering this CBT environment for the first time could be scary.
Even while it might become simpler as you continue to click the correct answers, at first, you'll experience some butterflies.
This is why, before the exams start, the majority of CBT centres, if not all, will give applicants computer usage instructions.
The JAMB itself has occasionally given mock exams for students who want to become accustomed to their CBT atmosphere. Additionally, this will aid in their primary exam preparation.
Read Also:
Conclusion: Is JAMB Harder Than WAEC?
It is safer to draw the conclusion that, although having four subjects, the UTME is typically harder to pass than the WAEC.
This stance is supported by personal experience, the experiences of others, and the environment and the substance of the exam, among other things.
The nature and scope of the exam questions and syllabus are a close second to the reasons for this. However, you can perform better on either of the two exams if you study carefully and diligently.
Disclaimer: Neither JAMB nor WAEC is being disparaged in this article. But all we're trying to do is provide you with some information on these second tests.
You can learn how to prepare for both exams for post-secondary education from these.
We wish you good luck!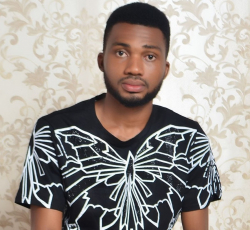 Latest posts by Benjamin Targba
(see all)